[UPDATE]Coronavirus (COVID-19) in Peru: How to Handle your upcoming trip to Peru?
Last Friday, Peru woke up with the news of the first imported coronavirus (COVID-19) case in Lima. From that day on, reports of new cases have spread around the country. Following that, the Government has implemented several restrictive procedures. If you have a trip to Peru coming soon, find here all the important information about COVID-19 in Peru.
What is coronavirus (COVID-19)?
Coronavirus is a family of a variety of viruses transmitted from animals to people (zoonotic); several of them are known to be in some animal species but haven't spread to humans yet.
This virus can cause illness from a common cold to severe cases of respiratory sickness.
COVID-19 (novel coronavirus) is an infectious disease founded out in Wuhan, China, for the first time last December 2019. This virus spread from person to person through nasal or mouth secretions, touching contaminated objects, and then touching your eyes, nose, or mouth. Although the virus doesn't have a high mortality rate (between 1 to 3%), it is highly communicable, which has caused its fast spread around the world.
What are the symptoms of COVID-19?
It's known that the symptoms of this virus are very similar to a cold. The most common ones are tiredness, fever, and dry cough. Those symptoms appear between days 1 to 14 since the first contact with the virus. Still, some cases don't develop any of them. Most cases (80%) recover favorably from the infection without treatment, but older persons, people with pre-existing diseases, or with lowered immune defenses are likely to be more affected.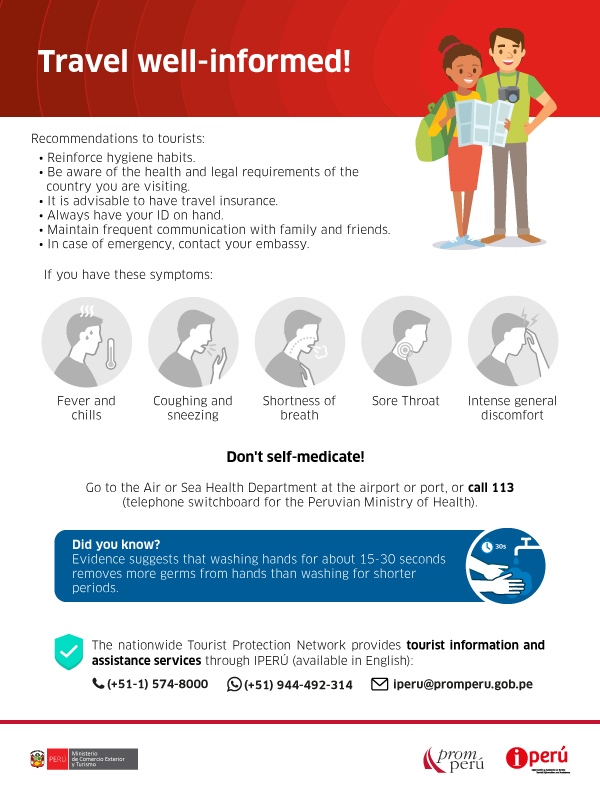 What can I do to prevent myself and others from the virus?
Since it's a novel virus and not many researches have been made yet, there are some simple but effective ways to protect yourself and others from COVID-19:
Wash your hands carefully and regularly for around 20 to 30 seconds with soap and water. Disinfect them with alcohol.
Avoid contact and keep your distance from people that present the symptoms.
Don't touch your face before washing and disinfecting your hands, especially eyes, mouth, and nose.
Stay home if feeling sick and call for medical assistance in case symptoms appear.
Note: Masks are only helpful if you already have the virus and want to prevent others from getting the virus.
COVID-19 in Peru
Due to the rapid spread of this virus, more than eighty by March 16th, the Peruvian Government, and local authorities have taken the following strict actions to stop the spread of COVID-19 in the rest of the country.
The government declared a state of national emergency for 15 calendar days from March 16th.
Government decrees mandatory social isolation for 15 calendar days. Everybody should stay home with the exception of some services such as health, telecommunications, fuel, and food supply and national security.
The Peruvian National Police (PNP) and the Armed Forces will adopt measures to guarantee security and public services provision.
Total closure of the borders, suspending international passenger transport, by land, air, sea, and river for 15 calendar days, from March 17th at 00:00 hrs.
Classes are officially suspended in all educational institutions (schools, institutes, universities, and colleges) from March 31st.
The authorities are reinforcing the control at the entry of passengers at airports and borders, strictly following the World Health Organization (WHO) control protocol.
The Government installed an inter-institutional Cabinet to confront and attend coronavirus cases that may arise.
Exclusive spaces are being set up in every city to serve patients infected with the virus.
The trade-in medical supplies will be controlled to avoid speculation.
People presenting the symptoms must stay at home quarantined and call the 113 for a COVID-19 evaluation request.
Being this is an unforeseeable circumstance that we never faced before, it's difficult for us to predict how the situation will evolve during this month. However, we call on all people arriving in Peru in the following days to be prepared for further and more restrictive actions with little or almost no advance notice.
Is it safe to travel to Peru at the moment?
Traveling the world during a pandemic may not seem like a great idea, but if you have already purchased a trip to Peru long before the COVID-191, here's some important information to keep in mind.
At the moment, it is not possible to travel around Peru due to the current supreme decree that mandates the social isolation for 15 days. If you are already in Peru, you should stay in quarantine until April 15th, in the first instance. The Government has taken very restrictive actions to fight the virus, and the principal airports, monuments, sites, businesses, and destinations are closed at the moment. The police and army are allowed to arrest anybody who breaks the order.
If you haven't arrived in Peru yet, we highly recommend contacting your travel agent and rescheduling your trip to Peru if for a further date. As always, the welfare of our travelers, our staff, and our community is our priority. We will be more than happy to be part of your Peru adventure after this worldwide crisis is under control.
Peruvian Soul Operations during COVID-19 outbreak
We don't have any travelers in Peru at this moment, and our operation has completely stopped, as requested by the government. All our team is following the instructions from the Ministry of Health and local authorities to prevent the spread.
We are continually keeping track of the situation with our local authorities and also following the daily reports by the WHO which you can find here.
We will continue informing about COVID-19 in Peru in the following days if there's more information related to the topic. We call on all travelers and agents to only spread official news and keep calm during this hard situation. Safety comes first for us, as well as prevention. If you are already in Peru and develop the symptoms described before, please call 113 (Health Minister) to prevent a significant sickness. Coronavirus is not as lethal as disinformation is.
If you need further information about the situation in Peru or help from our side, contact us, we'll be happy to help as much as possible.
Sources:
https://www.who.int/health-topics/coronavirus
https://www.who.int/news-room/q-a-detail/q-a-coronaviruses
https://www.who.int/emergencies/diseases/novel-coronavirus-2019
https://pe.usembassy.gov/covid-19-information/
https://www.peru.travel/en