Tambopata Reserve, Madre de Dios
Inkaterra Reserva Amazonica is an eco-luxury lodge in the adjacent area to the Tambopata National Reserve. The Madre de Dios river meanders right in front of this charming lodge. Reserva Amazonica has an excellent location, just a 45-minute boat ride down the river from Puerto Maldonado.
Rooms
Inkaterra Reserva Amazonica offers 35 wooden cabins equipped with screened porch and hammocks, ceiling fans, hot baths, eco-friendly organic bath merchandise, and cloth robes. Those cozy cabins are inspired by The Ese'Eja culture, one of Peru's few extant foraging communities, which have been protectors of the lands in the Amazon basin for several generations.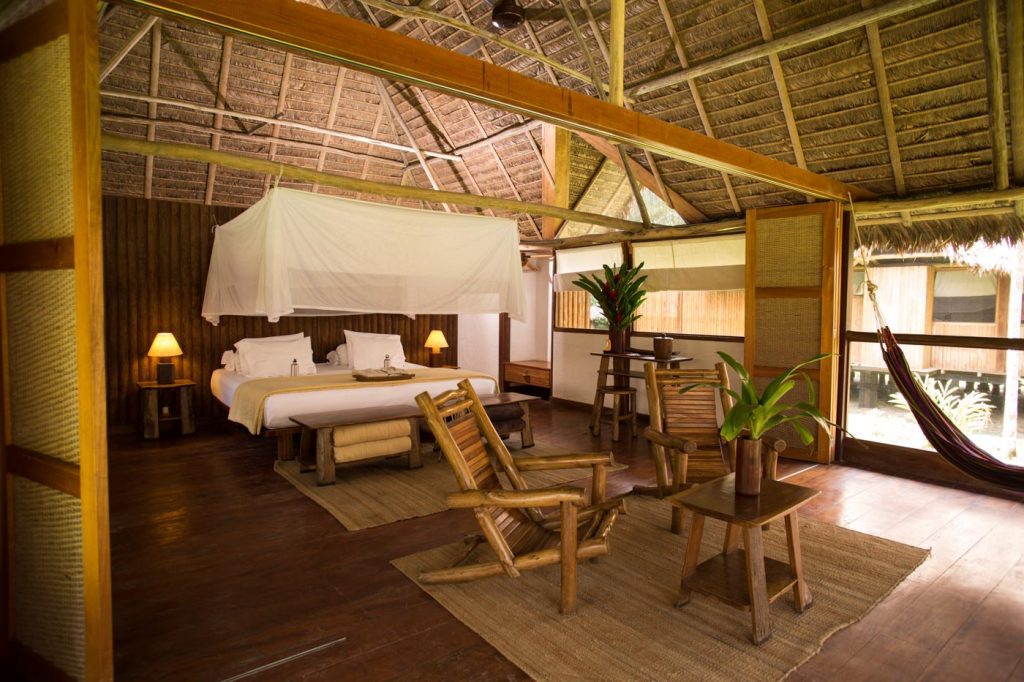 There are different cabin categories: the Tambopata Suite, Amazonica Suite, Superior Rio, and Superior. The first one is the largest room at Inkaterra Reserva Amazonica. It includes a private covered terrace with a plunge pool, sunbathing chairs, and outdoor showers across four integrated areas!
Common areas
The lodge has a main dining room, where they offer a welcome refreshing drink while you check in. This space is an open, round, and cozy space with two levels where guests enjoy meals and socialize, play games, read, relax or have a drink at the bar. You can also enjoy some time putting your feet up and relaxing in the hammock in the protected napping area.
Ena Spa
Inkaterra Reserva Amazonica's Spa, Ena is the perfect place for relaxing with the sound of the Madre de Dios river. They offer an excellent treatment with exotic Amazonian ingredients and 100% natural products.
Dining
The lodge's restaurant is inspired by the tropical flavors and fresh ingredients of the Amazon region. They offer an international buffet breakfast, but lunch and dinner are served a la carte. You can also enjoy a full bar service, including a complimentary Pisco Sour at cocktail hour.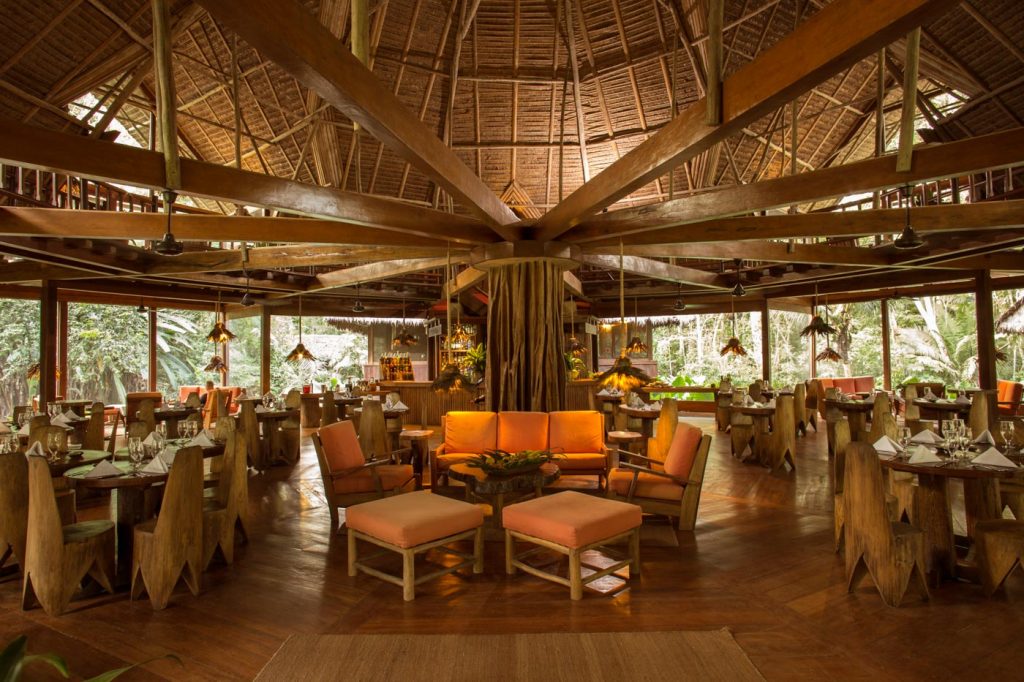 Experiences
Inkaterra Reserva Amazonica Lodge offers a-la-carte activities such as the Inkaterra Canopy Walkway, excursions in the forest, and boat trips.
Trail System: This trail offers an excellent beginning to the jungle ecosystem. You will learn about the trees like the kapok tree and the beautiful ironwood tree. It would help if you looked everywhere to see exotic birds, insect life and learn how to recognize the primary and secondary rainforest.
Rainforest Garden: The locals created this attractive garden more than ten years ago and displayed native plants, trees, and orchids. If you have children, they will adore identifying orchids, its flowers parts, pollinators, and the benefits of plants for locals.
Twilight river: This tour is an afternoon boat ride, where you will see the transformation from morning to the night landscape. The animals are different who adapted to the night, like owls, capybaras, and caimans.
Insider's recommendations
This property managed to inventory more than 540 bird species in the lodge.
A good conservation measure is the rational use of electricity. Electricity is turned off during certain times.
We recommend staying for three nights in this fantastic place so that you have enough time to explore all the major tours and of course don't miss the Lake tour, which has the best chance to see wild lives.
Suppose you want to see many stars and wild animals like otters, capybara, and caimans. In that case, you must take the nighttime boat excursion.
Inkaterra Reserva Amazonica was selected by National Geographic Traveler magazine among the world's 25 best eco-lodges.