Tambopata Reserve, Madre de Dios
Tambopata Research Center (TRC) is located about 8 hours upriver from Puerto Maldonado. This lodge is one of the best-located places to explore the jungle in Peru. TRC is the only lodge right inside the Tambopata National Reserve. It gives its guests incredible opportunities to spot wildlife in their natural habitat.
Rooms
Tambopata Research Center was designed to have a special connection with the surrounding forest. The rooms have an open veranda, so the clearing allows you to observe wildlife without interfering with their natural behavior.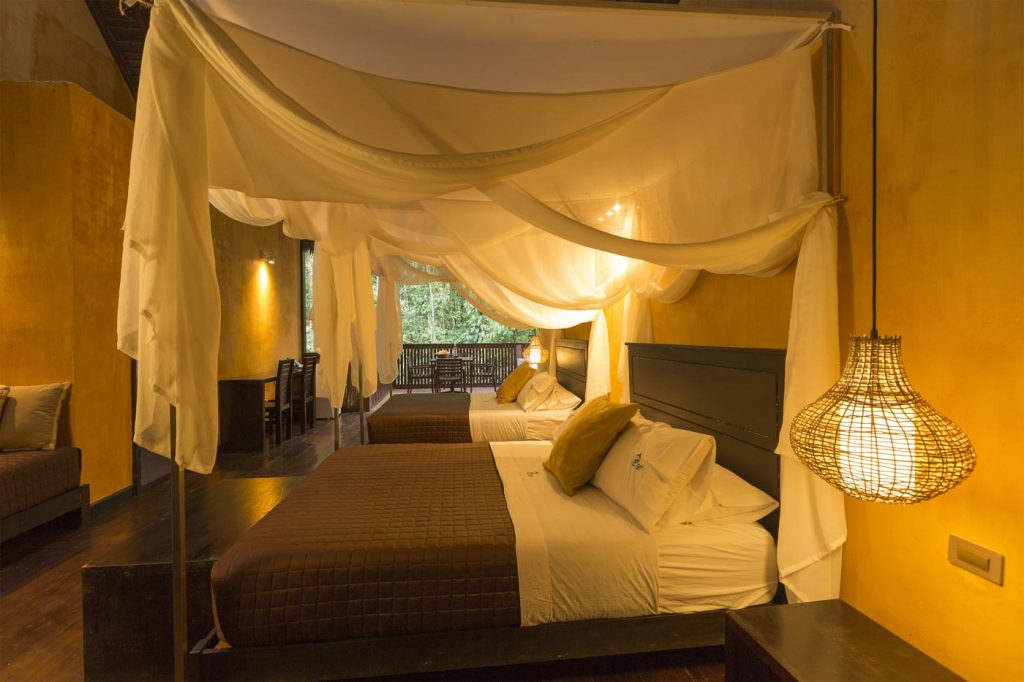 There are four room categories connected with the main building through an elevated bridge: Superior, Comfort, Suite, and Deluxe Suite. All rooms are cozy wooden cabins equipped with nice big beds screened with a mosquito net, thus preventing any insect from getting close to you. You will only find eco-friendly toiletries in the bathrooms, including biodegradable shampoo, conditioner, liquid soap, and hot water showers.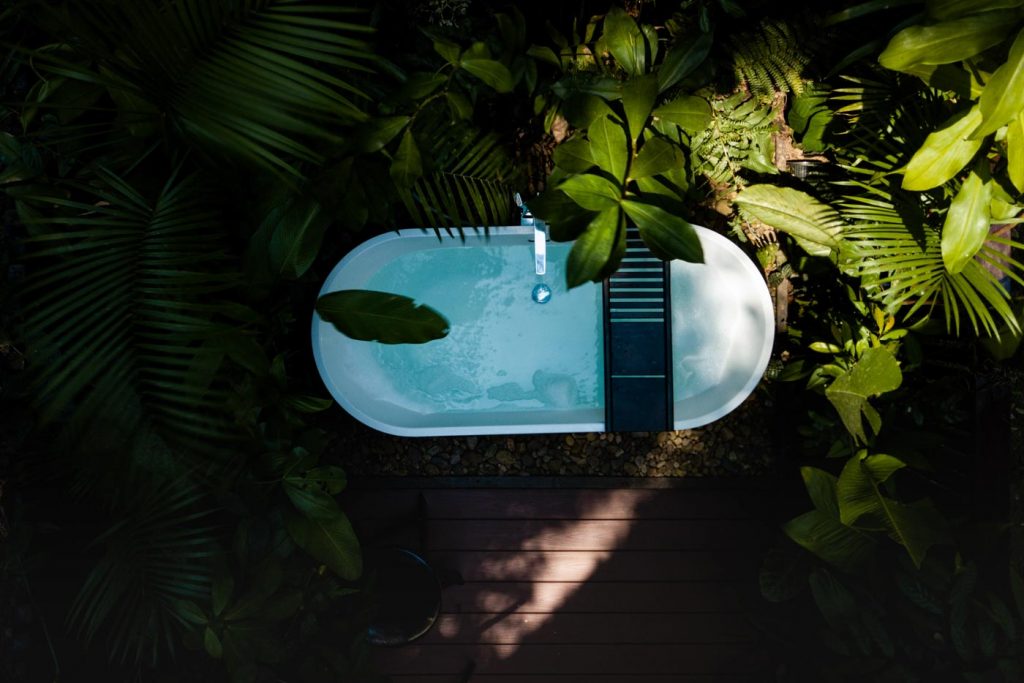 Common areas
The main lodge has lounge and hammock areas where you can swing and relax. There are also charging stations for electronic devices, Wi-Fi, and a large dining room with an exciting bar. At the bar, you will enjoy delicious cocktails like the famous Pisco Sour.
Dining
There is an open-air dining room in the Tambopata Research Center where three-course meals are provided every day. There is filtered water offered to guests throughout the day and coffee, tea, and fruit juices during the meals. If you need special dietary requirements, they are happy to make individual arrangements too.
Of course, TRC also provides some snacks and drinks during some of the tours.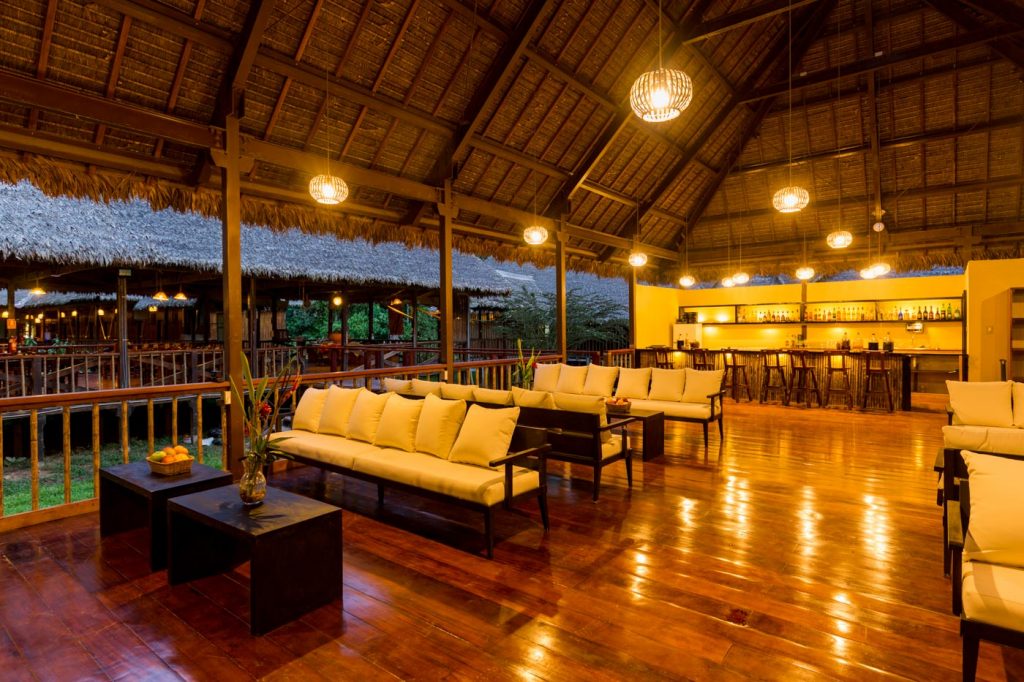 Experiences
Tambopata Research Center offers a-la-carte experiences that you can choose from according to your interests. Some activities are the Monkey Search, Macaw Clay Lick, Macaw projects lecture, Bamboo Hike, Swamp Hike, Bird Watching, Sunset Cruise, Island Exploration Adventure, Nighttime jungle hike, and others.
Night Walk: One of the jungle's first experiences is to take a night walk through dark paths and mysterious places. While many animals sleep during the night, others emerge, like beautiful tree frogs, shy snakes, and other rainforest creatures. It is also the habitat of night monkeys, poison dart frogs, tarantulas, and stick bugs.
Chuncho Macaw Clay Lick: The Chuncho macaw clay lick is one of the most impressive shows in the world. This place is considered a must-see for you who love to be in contact with nature and animals. The wet jungle air is filled with the screeching noises of macaws as they settle in the trees above the cliffs, swooping down to feed on the clay.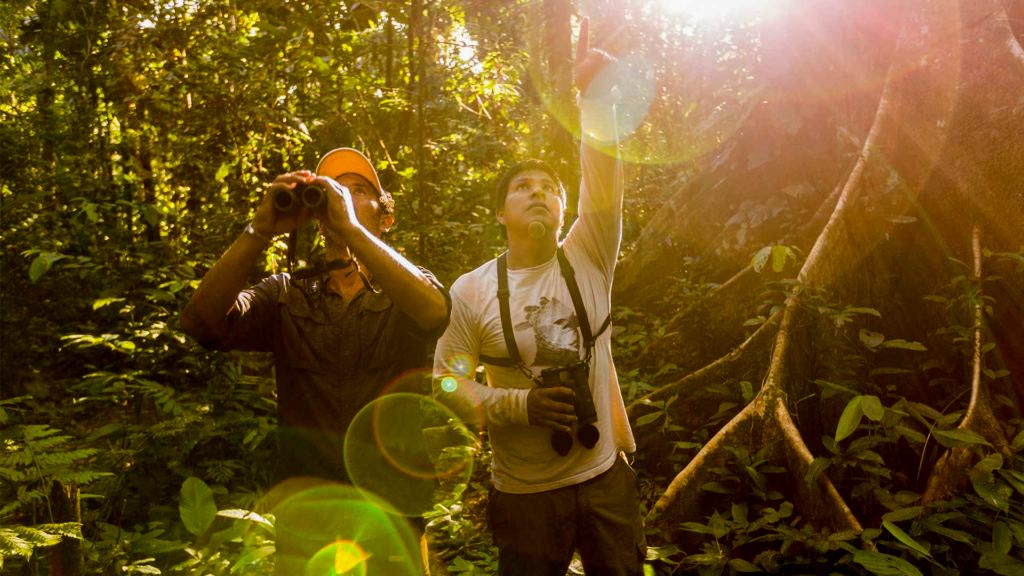 Insider's recommendations
This lodge is the best place to see primary rainforests and animals in their natural environment due to its remote location.
You will take extra hours traveling on the river, which provides you additional chances to see wildlife like the jaguar, storks, Orinoco geese, tapir, among other animals.
Tambopata Research Center has been working hard every year to neutralize the impact on the environment. They make different actions like reducing the amount of water wasted every day by reusing your towels in your room. Also, they encourage visitors to bring reusable bottles of water.