Lake Titicaca is such an exciting destination to visit in Peru due to the beautiful landscapes and living cultures that have maintained their ancient lifestyle until now. Most travelers visit islands like Uros, Amantani, and Taquile, but Lake Titicaca and Puno are much more than that. Let us show you what we are talking about.
#1 Scenic journey through Tinajani Canyon and Tarukani Puya Raimondii Forest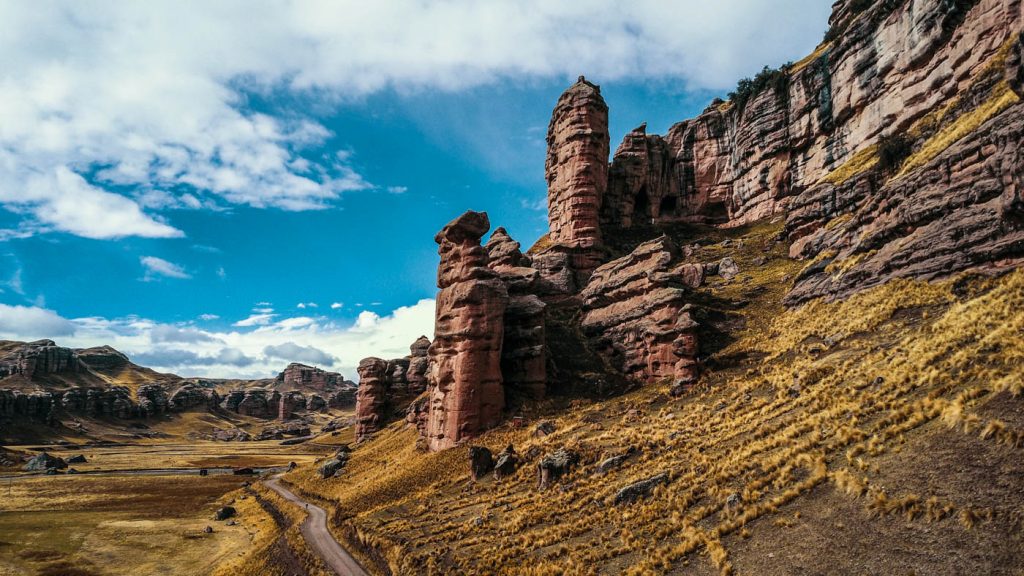 Definitely, one of the most amazing routes in Peru is the one between Cusco and Puno because of the impressive hidden jewels that are found there: Tinajani Canyon and Tarukani Forest. These two places are located near Ayaviri in Puno and are perfect stops to make your route in-between Cusco and Puno even more enjoyable.
Tinajani is an area with plenty of peculiar reddish rock formations that produce spectacular scenery. These huge rocks are composed of arsenic and not of volcanic rock like other similar sites.
Some kilometers ahead on the same route, you'll enter Tarukani forest, famous for its Puyas Raymondii. Puya is a unique endemic plant that only grows at over 3000 m (9843 ft) of elevation in the highlands in the dryness of its conditions, on shrubby and rocky slopes. Some of them can grow up to 12 meters and produce over 8000 flowers and 6 million seeds!
Seeing them blowing is a once in a lifetime experience as these plants die just after that. Although this route may take more hours than the traditional ones, it's totally worth it.
#2 Fundo Malkini, Alpaca Breeding Center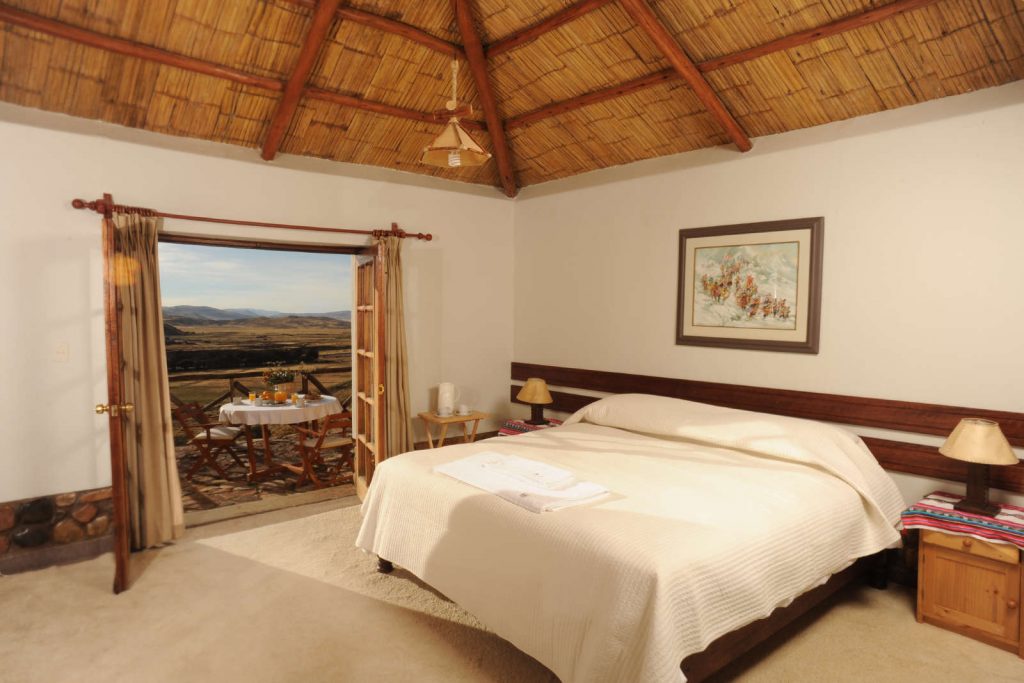 Puno is mostly known for Lake Titicaca, but there are plenty of areas that may surprise you, and Malkini is one of them. This ranch in the middle of the mountains lets you learn about llamas, appreciate an utterly different side of Puno's highlands, and enjoy activities around them. Malkini Manor house is located in Azangaro, around 140 kilometers from the main airport in Puno, and holds 3000 hectares to breed its alpacas. They work with the surrounding communities in the genetic improvement of these camelids to ensure the sustainability of the industry. However, one of the best things about this exciting place is the lovely, cozy home where they receive their guests, making Malkini not only a place for alpaca lovers, but also for anyone that wants to disconnect in between the mountains and enjoy a relaxing time near a bonfire. This place is highly recommended if you have at least a pair of days to spend in the Puno region. You won't regret it!
#3 Picnic on the shores of Lake Titicaca in Socca Peninsula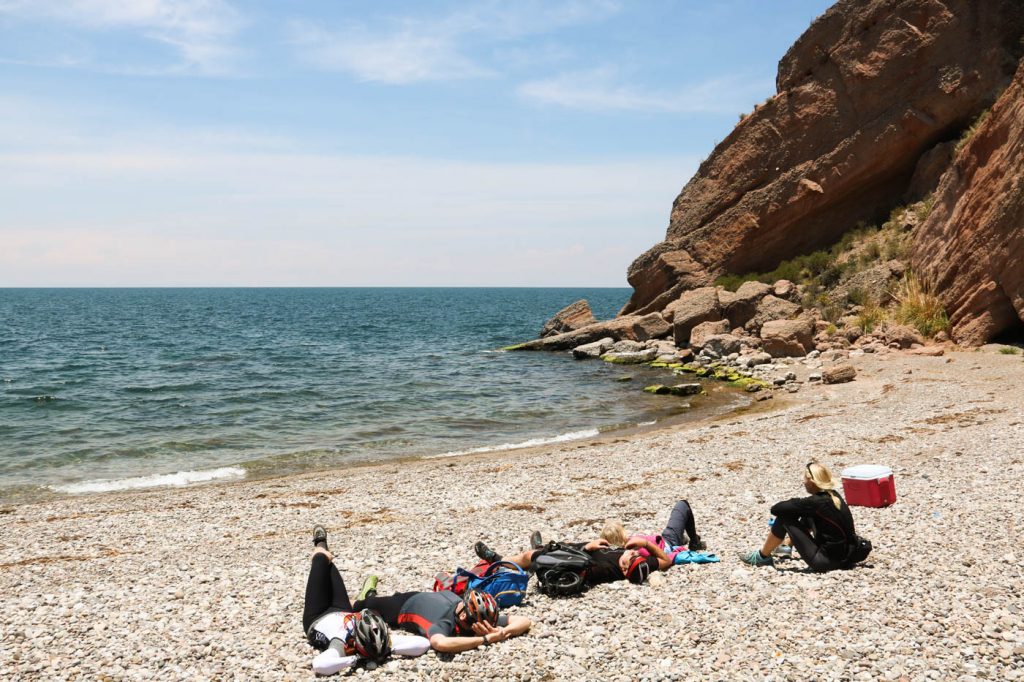 Puno and the highlands may not have access to the sea as places on the coastline, but there is no doubt that Lake Titicaca has some of the most beautiful beaches in Peru. At about an hour from Puno and next to the Chucuito peninsula, Socca has gorgeous Mediterranean-like beaches with incredible views of the Lake, Taquile, and Amantani islands in front of us. 
Heading there, whether it's in a private car or by bike, will have you passing small traditional villages and fields that locals work daily as farming is their main economic activity. Having a picnic around this impressive scenery will leave you breathless. This excursion can take a day from Puno, or you can also continue your way to the nearby communities and spend more time there. It's up to you!
#4 Kayaking around the Chifron beaches
Amantaní and Taquile islands are the most popular communities among travelers, and, of course, they're beautiful. Yet, there are other exciting places around Lake Titicaca well worth the visit, such as Chifron in the Capachica peninsula. Chifron is lesser-visited than Amatani or Taquile, but its beautiful beaches have excellent conditions for kayaking around the shores of the lake. This community offers accommodation and food for a more extended stay. If you are interested, you can join them in their daily activities, the perfect option for people interested in visit Lake Titicaca without crowds.
#5 Lampa
This tiny town in the highlands of Puno is becoming more recognized as time goes by. Lampa is actually a fascinating place that seems frozen in time, with its colonial buildings, manor houses, a gorgeous church, and mysterious catacombs. One of the most exciting sights in town is the replica of Michelangelo's La Pietá, which stands in the local city hall. It is unique! However, what makes Lampa a completely off-the-beaten-path destination in Peru is that you may be one of the very few visitors in town, enjoying the whole city by yourself. Lampa is located just 40 minutes from the main airport at Juliaca and is a great place to spend your first night in Puno. If you visit this place, don't forget to try their famous home-made cheese bread!
It's time to see and go beyond the highlights and discover new places on your next visit to Peru.
Enjoy your trip!