Are you thinking about traveling to Peru but you don't want to go to the typical destinations? Maybe you want to visit Machu Picchu, but also want to get to know some other off-the-beaten-path destinations around the country? If so, you should totally read this article! We will share 9 Peru destinations you might not have heard about before.
#1 Pampachiri, Apurimac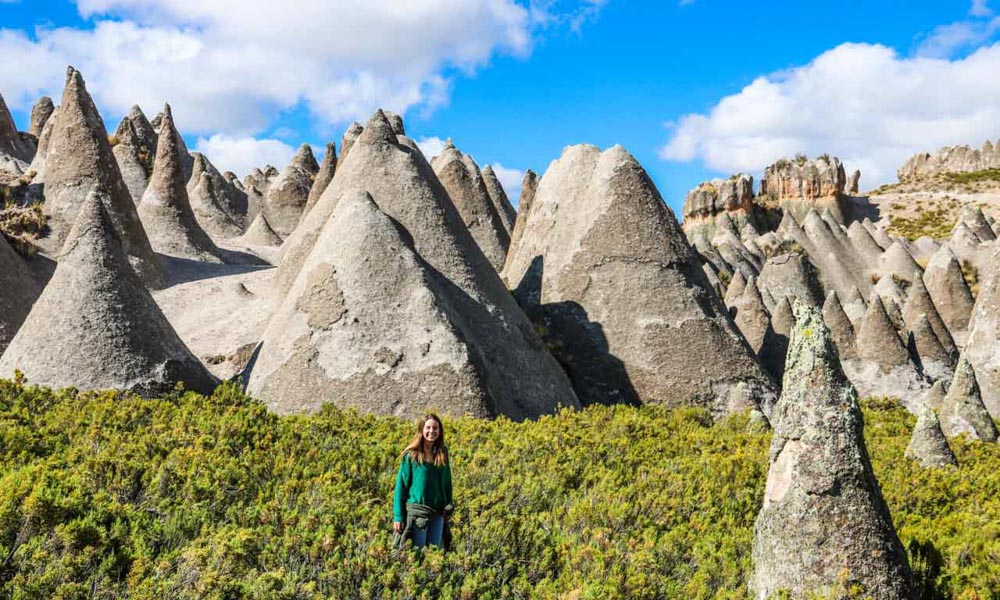 This fantastic stone forest located in the Apurímac region is unique in Peru. Plenty of conical-shaped rocks are distributed in the 60 hectares that form this tourist attraction. Although it is not very visited, it amazes anyone with its exciting landscape.
The most credible theory is that Pampachiri's rocky landscape was created with the Qarwarasu and Sotaya volcanoes' eruption approximately four million years ago. The matter from the volcano formed the geological zone. At the same time, the rains and the wind artistically molded the stones as cones.
This place is perfect for travelers who want to learn more about geology and those who want to see something different. It is interesting to see how locals have built houses and storerooms beneath the cone-shaped rocks. This area is called the smurf houses and is a must if you visit Pampachiri.
You can visit this destination while you are going from Lima to Cusco by car. You won't regret it!
#2 Huancaya, Lima
This small town is located in the highlands of the Lima region. Around seven hours away from Lima city, Huancaya is one of the Peruvian Andes' better-treasured gems. Some of the most beautiful cascades and turquoise lagoons are conserved inside Nor Yauyos Cochas, the National Park where Huancaya is located.
Locals in Huancaya have preserved their customs and are happy to share them with visitors. Some have opened their houses fr tourists to spend the night in these homestays and learn a little about their daily lifestyle.
Tourists can hike around the town and visit the cascades, located around ten minutes from the village on foot. Moreover, one of the best ways of getting to know the lagoons is by boat. Some locals have adapted their fishing boats to take tourists around the Huallhua lagoon. The landscapes tourists get to see during the boat tour are just breathtaking!
If you decide to visit Huancaya, we recommend choosing a time different from Easter because it's this time of the year when most people travel here.
#3 Tinajani canyon, Puno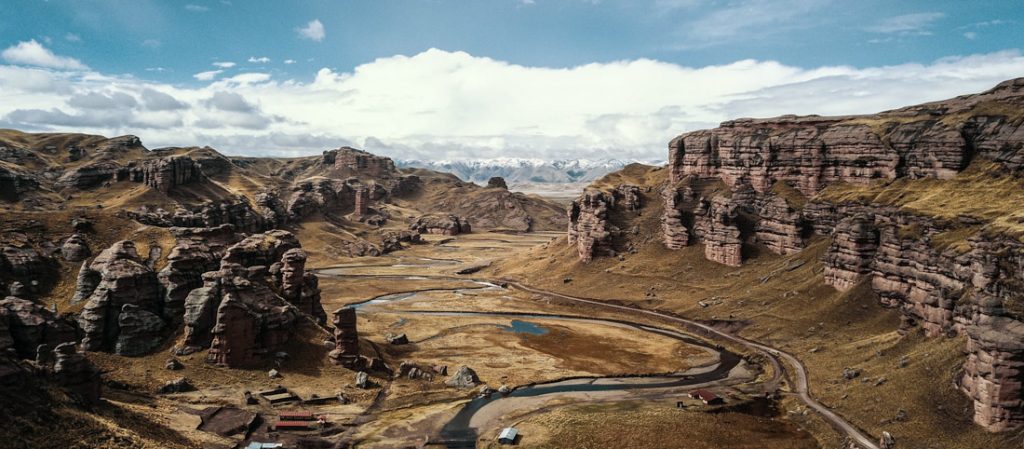 Tinajani Canyon is located not more than ten minutes by car from Ayaviri town in the Puno region. This vast canyon of more than 250 hectares offers amazing landscapes of gigantic red-colored rocky. Despite its beauty, Tinajani is visited by only a few tourists, making it a perfect destination for those wanting to avoid the crowds.
Scientific studies have revealed that, in ancient times, this place was the bottom of an immense lake and that its rock formations are the result of the work of water and wind. However, several legends explain the origin of this place. Just ask a local, and you'll hear an interesting story about it!
Besides appreciating the landscape, tourists visiting Tinajani can practice sports such as rock climbing, hiking, or horse-riding. It is also possible to see one of the Andes' most emblematic plants: the Puya de Raimondi. This majestic plant can reach 14 meters in height.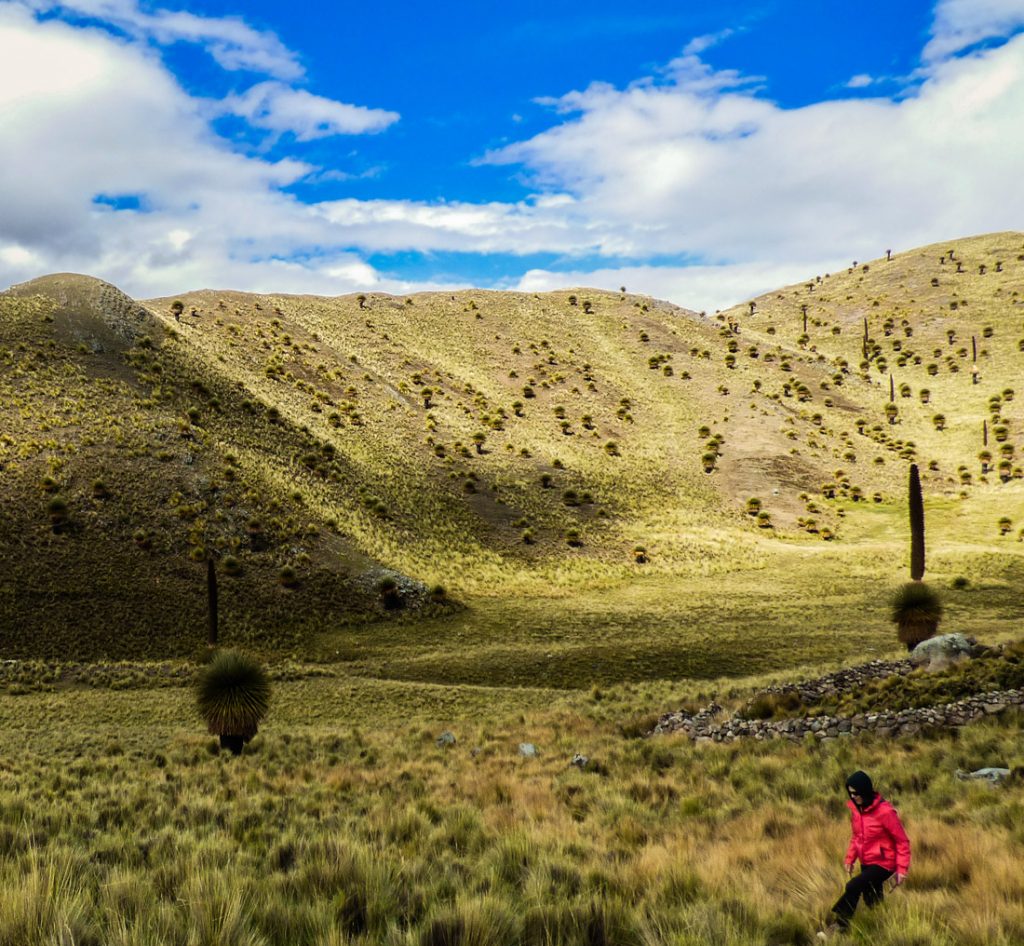 A tip for your visit to Tinajani: temperature varies greatly, so you should take something light for the noons and something warm for the cold nights.
#4 Quinua town, Ayacucho
Quinua is a little town in the Ayacucho region with cobblestone streets and tile-roofed houses adorned with picturesque ceramic churches, which keep its colonial heritage alive. But what indeed Quinua is known for is for its artisans who make incredible pieces of art.
The Ministry of Culture of Peru declared the Cultural Heritage of the Nation to the knowledge, knowledge, and practices related to elaborating the traditional ceramics of Quinua. Quinua ceramics are considered a means of artistic and social expression through the worldview, historical memory, and oral tradition of its population are transmitted.
It is possible to visit ceramist workshops and learn more about Quinua's traditional crafts. We personally love Max Limaco's workshop, where Max himself explains to tourists the techniques he uses and shows them how to make a church – a typical design in the area – and finally allows visitors to create a piece on their own.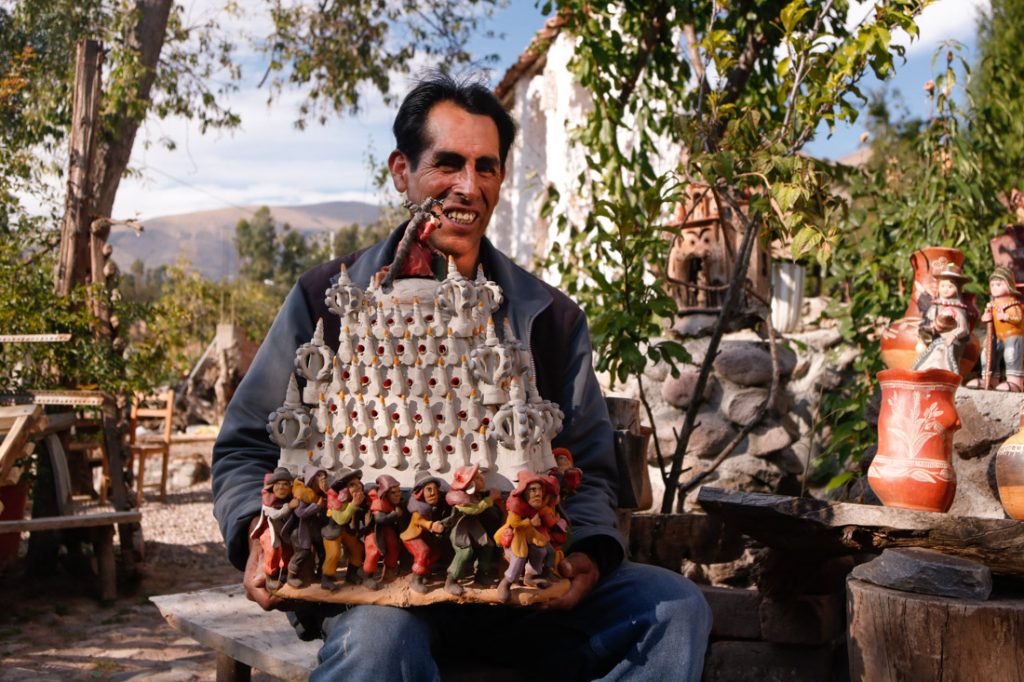 The Pampa de la Quinua is very close to the town. This is the place where the Ayacucho battle took place. This event forever sealed the independence of Peru and much of Latin America from Spanish rule. Don't miss it!
#5 Illescas, Piura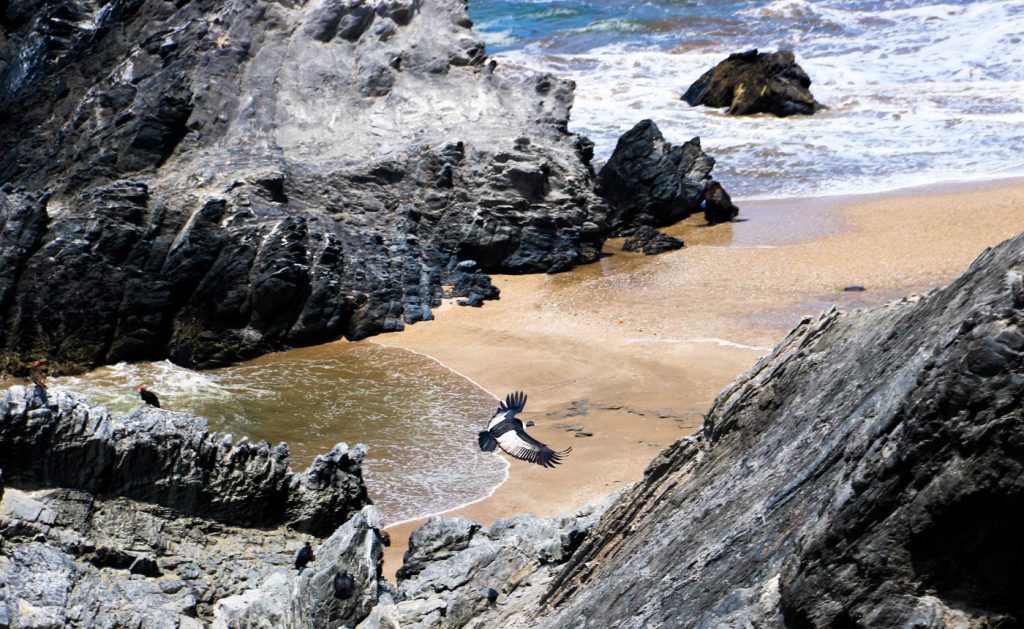 Illescas Peninsula is one of the most beautiful beaches in northern Peru. Also known as the "northern Paracas," this area conserves several animal species, such as penguins, flamingos, sea lions, and even Andean condors!
Punta Luna is the only lodge in the peninsula, which makes staying in it even more special. It is possible to watch the pink flamingos fly and walk on the shore looking for food from the lodge's balcony. Lunches and dinners are magnificent since a private cook makes delicious dishes with fresh fish.
A must while traveling in Illescas is to visit the condor's lookout. Some travelers report seeing more than 30 condors at the same time. Studies show that Illescas is the only area on the coast where the Andean condors nest. This might be because they can find plenty of food in this biodiverse area.
At night, you have to walk on the shore and see how the ocean lightens up! While it doesn't happen every time, it is possible to see bioluminescence in Illesca's sea. It is a unique experience!
#6 Moron Oasis, Ica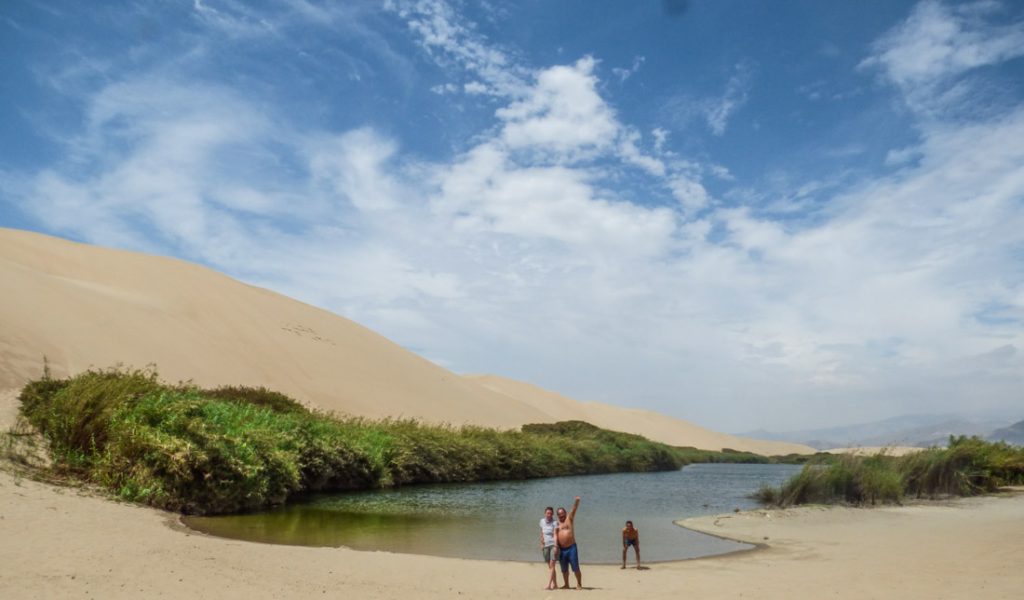 Moron oasis, located in the Ica region, is very similar to the famous Huacachina oasis, except that it is almost empty! Nevertheless, it is only one hour from Paracas reserve, so it is an excellent option for those wanting to explore coastal dunes and enjoy an oasis.
The best way to visit Moron oasis – and the magnificent desert surrounding it – is in a tubular car. Visitors can feel the adrenaline and learn more about this kind of dry ecosystem at the same time.
While in the lagoon, it is possible to enjoy the dunes on a sandboard or the refreshing water of Moron Oasis by swimming or in an artisanal boat. The best way of finishing a day full of activities and emotions is by having a delicious picnic in the middle of nowhere!
Even if you are not an expert, you should definitely try to sandboard, at least seated. You won't regret it!
#7 Caleta San José, Arequipa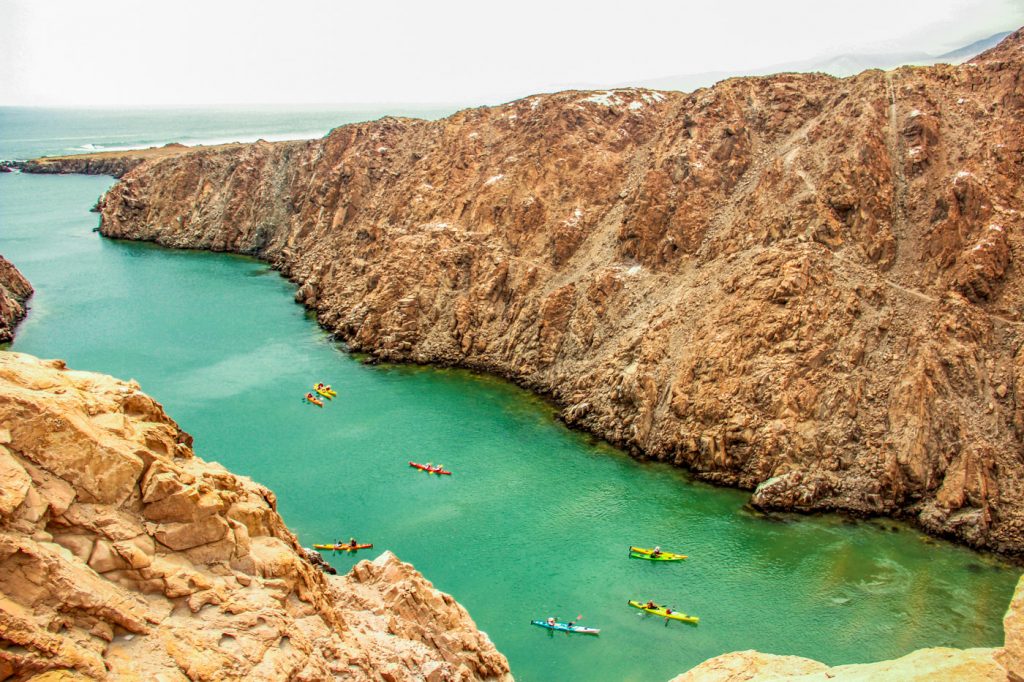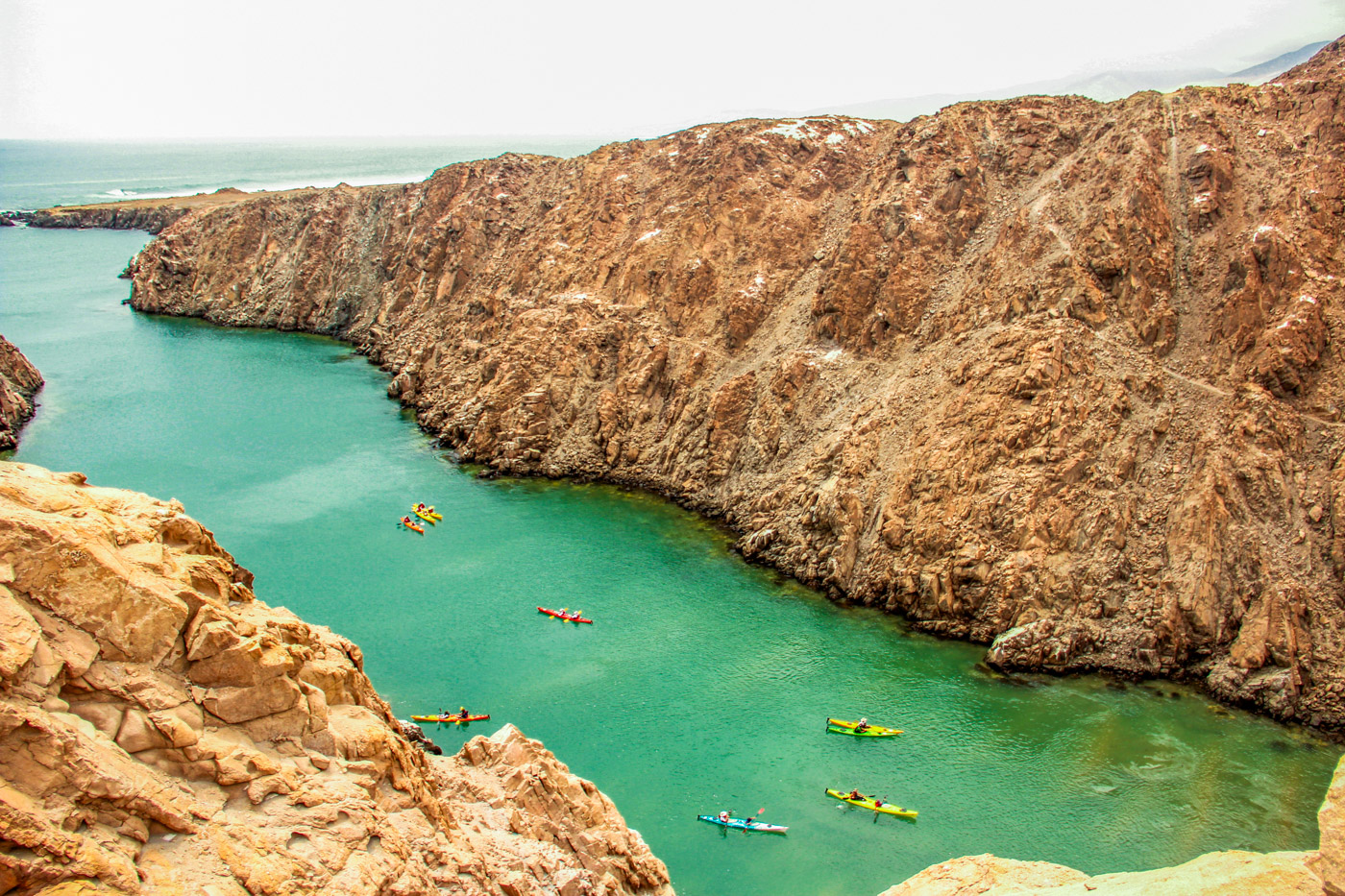 Many tourists know Arequipa, a beautiful city surrounded by mountains and volcanos, with delicious food and fantastic architecture. However, many don't know that this region located on the coast has beautiful beaches.
Caleta San José is a small and beautiful cove on the Arequipa's region coast. For many years it was only possible to get to Caleta San José by boat. Now, it is possible to get there in a 4-wheel-drive vehicle. Both ways are exceptional experiences.
While in the cave, visitors can kayak around the sea, take a boat tour, snorkel and get amazed by the underwater biodiversity, fish from a raft, walk next to the cliffs, or simply get surprised by the landscape.
Don't miss the opportunity to hike to Ancumpita. On this crystal-clear water beach, you can take a relaxing swim in the chili water.
#8 Yumbilla, Amazonas
The most-known waterfall in the Amazonas region – and probably in Peru – is undoubtedly Gocta waterfall. Nevertheless, there are plenty of impressive waterfalls in the area. Some of them are as beautiful as Gocta and less crowded. Yumbilla is one of them.
Yaqu Urco tourism association is formed by the Cuispes local community, the nearest town to the waterfall. They have organized themselves to offer tours around the paths. In addition, they show tourists the incredible flora and fauna living in the waterfall's surroundings.
While the whole place is beautiful, the lookout is definitely the best point in the area. From there, tourists can appreciate the Yumbilla waterfall in all its splendor. Yumbilla is more than 800 meters (2500 feet) high, and it is considered one of the country's highest waterfalls.
Visit Yumbilla when it's rainy (between November and April) since you will be able to enjoy Yumbilla and its jet force!
#9 Waqrapukara, Cusco
Waqrapukara is an archaeological site in the Cusco region. Archaeologists assume that this was an important Inca sanctuary with political and religious power. Because of its archaeological and cultural importance, the Ministry of Culture in Peru recognized this site as Nation's Cultural in 2017.
To get to this fantastic and not-so-visited site, tourists have different options. There are three different walking paths to get to it. The altitude and steep slope make the way to Waqrapukara somewhat difficult. Still, the fantastic views from the site make it totally worth it.
While some tourism agencies offer full-day tours to the site, we highly recommend enjoying Waqrapukara in two days. It is one of the few archaeological sites that allow tourists to camp in the surroundings, so take warm clothes and enjoy a starry night!
If you are into history and archaeology, visit this Cusco off-the-beaten-path destination before or after visiting Machu Picchu!