Overview
Get ready to feel Peru like a local and discover its wonders in a journey of a lifetime. Let us take you on an off-the-beaten-path route to the lost citadel of Machu Picchu, combining soft hikes along the Inca Trail and unique experiences with local families. Broaden your horizons by joining Seledonia in a culinary master class to find the secrets of Peru traditional food. Share a day with a community in the Sacred Valley, and learn about traditional textile techniques from the Weavers of the Andes. Explore a less-traveled route through the impressive Puya de Raymondii Forest and the Tinajani Canyon. Finally, get immersed in Lake Titicaca's millenary culture by staying with a local family. If you're an explorer looking to get a real feel of the real Peru, this trip is for you!
Why we love this trip!
Hike with llamas in the Sacred Valley of the Incas.
Experience the authentic coffee route to Machu Picchu.
Admire the impressive Puya Raymondii and Tinajani Canyon.
Day 1: Welcome to Peru & Cusco
Welcome to Peru and the old town of Cusco! Upon arrival, our local representative will welcome and drive you towards the Sacred Valley Incas. Because of its lower elevation (2,870 m or 9,415 ft) and its peaceful atmosphere, the Sacred Valley is the perfect place to enjoy your first days in Cusco.
Day 2: Hiking with Llamas, Maras Salt Mines & Moray Terraces
Enjoy a leisurely walk in the picturesque surroundings of Urubamba with the beautiful llamas part of the Llamapack Project. This interesting initiative seeks to emphasize the value of the traditional usage of llamas in herding communities. Your mission today will be to take them out to their grazing spot while you learn all about this noble and native eco-friendly animal. Then, visit Moray, a unique Inca site consisting of circular terraces built upon a natural depression, and Maras, an impressive salt-extraction complex composed of thousands of small salt ponds. Locals have been collecting and selling the salt at the markets of the region since before the Inca times!
Day 3: The Amaru Community in the Sacred Valley
Let's go towards the Sacred Valley's mountains, the Andean community of Amaru. This traditional village has kept their ancient traditions alive, farming techniques, used by the Incas centuries ago, to weaving. Discover agricultural practices and take part in the sowing or harvesting, depending on the season. Find many varieties of potatoes and learn about Andean superfoods, and medicinal herbs. By night, your host family will invite you to dine with them before going to sleep in their rustic but charming homestay. 
Day 4: Hike to Pisac Archaeological site
After a good sleep and a well-served breakfast, say goodbye to your new friends and start an easy 2-hour downhill hike to the archaeological site of Pisac. Explore this fascinating archaeological complex, which seems to have been the southern entrance to the Sacred Valley of the Incas. Enter the site through its highest section and start descending along the Inca terraces and remain down to the Pisac market. Once in town, explore its renowned market, full of different products and artisanal handcrafts.
Day 5: Ollantaytambo Fortress & Pinkulluna Viewpoint
Start your day visiting Ollantaytambo, a charming village that has not changed much since Inca times. This town is famous due to the Ollantantaytambo archaeological site, a place with impressive Inca stonework only seconded by Machu Picchu. After a tasty lunch in the village, you can head up to the Pinkulluna viewpoint. This short hike starts at the center of Ollantaytambo town, going uphill for up to 40 minutes among old Inca steps. This path leads to a complex of small towers, granaries, and other Inca constructions located in this mountain.
Day 6: The Coffee & Cacao Route, Ollantaytambo to Huayopata
Although not many people know it, Peruvian coffee and cacao are amongst the best in the world, and many of them come from the cloud forest of Cusco. Today, begin an extraordinary alternative journey to Machu Picchu. First, head to Huayopata to visit Julia's house and family, a coffee and cacao farmer, and a good friend of ours. Due to its tropical weather, it is the perfect place for cacao, coffee, and many varieties of tropical fruits to grow effortlessly. Julia will invite us to visit their plantations, and she will explain to us the process of coffee and cacao from the bean to the cup. You can participate in the harvesting of coffee beans or even making your very own chocolate!
Day 7: Coffee Route to Machu Picchu, Huayopata to Huacayupana
Wake up with a freshly made coffee and delicious breakfast with organic products directly from the farm, and prepare yourself for a stunning hike through a section of the Inca Trail. Enjoy the beautiful flora and impressive views along the route until Huacayupana, where our next host, Alejandro Perez, will be waiting for us. Alejandro, a proud cafetalero, will show us all about the organic coffee process from the bean to the cup, and his life on the mountain ridge. In the evening, we will share a delicious dinner with Alejandro's family, before going to sleep in their traditional lodge constructed with adobe, or mud bricks.
Day 8: Coffee Route to Machu Picchu, Huacayupana to Aguas Calientes
Enjoy a healthy and delicious breakfast before continuing your route to Machu Picchu. Hike to Santa Teresa for around three to four hours through a path bursting with flowers. Take a bath at the local hot springs of Cocalmayo and the Huadoquiña Coffee Cooperative, and then take a  taxi to the Hydroelectric Station. It's here where your 3-hour easy walk next to the railroad that goes to Aguas Calientes starts. Finally, arrive in Machu Picchu village and check into our hotel, where a comfy bed and hot shower are waiting for you.
Day 9: The Lost City of Machu Picchu
The big day is finally here! Early in the morning, take a 30-minutes bus up the steep zigzagging road to Machu Picchu Citadel, located on an impressive mountain setting. We'll have a 3-hour guided excursion to have a better understanding of Machu Picchu and the Incas culture. Your guide will be happy to answer all the questions you may have. Afterward, return to Aguas Calientes to enjoy a last walk around the town and have lunch before boarding your return train back to Ollantaytambo. Upon arriving, we will take you to your hotel in Cusco city.
Day 10: Culinary Class in Seledonia's Mesa
Enjoy Cusco from chef Seledonia's view! Discover the variety of local products at Cusco's San Pedro Market, taste exotic Peruvian fruits, and meet Seledonia, our friend, and chef. Seledonia Montalvo is an exceptional local cook and charming woman that will let you go into her kitchen and show you all about the traditional Cusco's cuisine. With her guidance, you'll get ready to cook not only the most popular dishes of Peru but very local and traditional Cusco's dishes.
Day 11: Private Scenic Journey from Cusco to Puno
Embark on a journey from Cusco to Puno, as you have never seen before. Travel for 400km among Andean towns, herds of llamas, and breathtaking snow capped mountains. A visit to Andahuaylillas Church, the Sistine Chapel of America, is a must! Then, take a breath, and enjoy a fresh lunch based on local ingredients at Tambo Queque Norte manor before going back on the road. The route will take us through the Tinajani Canyon, an area with plenty of peculiar reddish rock formations, and then to Tarukani Forest, famous for its Puyas Raymondii. Arrive in Fundo Chincheros manor and end your day with a bonfire below a starry night at the shores of Lake Titicaca.
Day 12: Sailing in Lake Titicaca & Amantani Island
Enjoy the sunrise in the middle of the highlands in Puno before starting your journey to Capachica to board our boat towards Amantani Island in Lake Titicaca. Upon arriving, our hosts, the Pacompia family, will welcome and invite us to their home. After having a simple but delicious farm-to-table lunch, we will have the afternoon free to walk and explore around the main square. At night, we can share some time with our host family before resting in our charming homestay.
Day 13: Amantani Island, Andean Pachamanca & Pachamama offering
Explore the island and learn from the local villagers about their traditions and lifestyle. Take a short hike to the ceremonial sites of the island: Pachatata and Pachamama. From the top of those mountains, you will enjoy amazing views of the lake and terraces. Enjoy a Pachamanca for lunch! This ancient cooking technique has the food prepared underground using preheated stones and leaves to separate ingredients from the soil. Tonight, we can join a local celebration and participate in a Pachamama offering ceremony.
Day 14: Farewell Peru
It's finally time to say good-bye to our host and friends and take our motorboat back to Capachica. From here, we'll drive you to Juliaca's airport to board your connecting flight back home.
What's included?
Personalized attention before and throughout your trip
Brief presentation prior departure
All transfers and transports
Entrance fees
Local English-speaking guide focused on personalized trips
Accommodation at well-thought hotels according to your travel style
Mentioned meals
What's not included?
Services not specified in the program, extras & tips
Domestic flights
International flights
Travel Insurance
Route
Gallery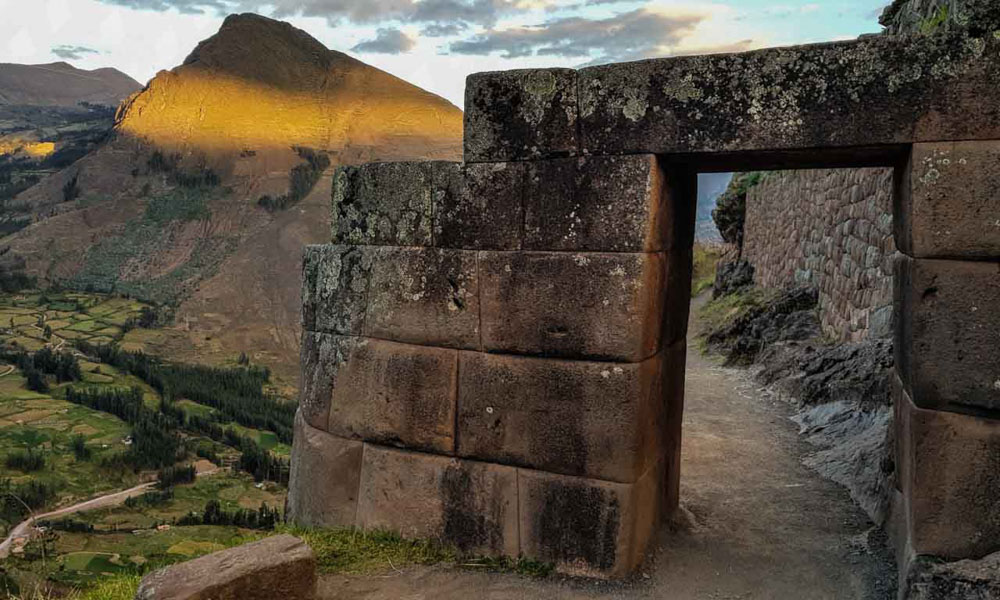 Visit the famous Ollantaytambo Fortress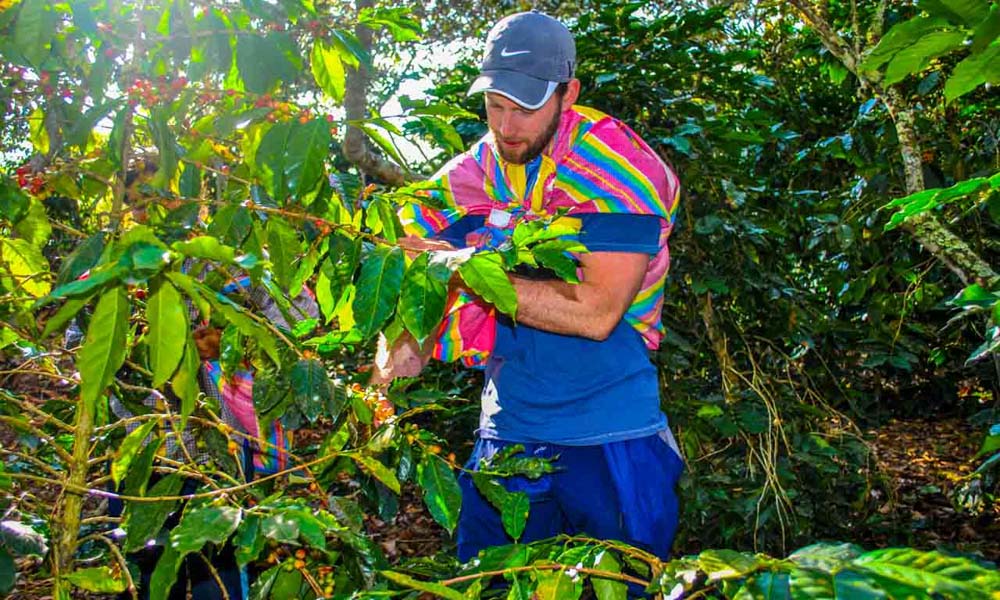 Alternative trek to Machu Picchu, The Coffee route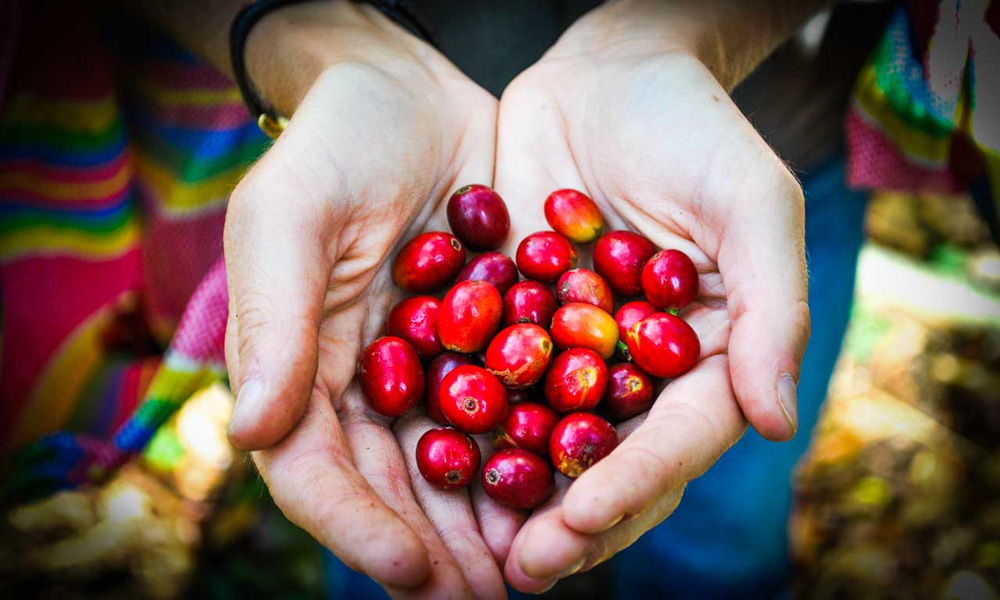 Wake up with a freshly made coffee
Meet the locals and learn about the organic coffee process from the bean to the cup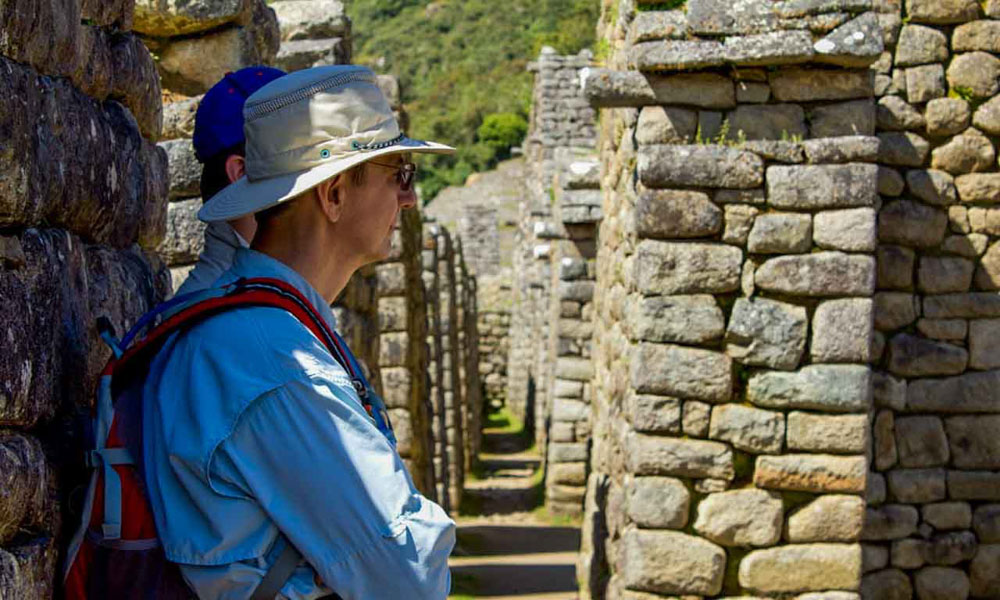 Visit the lost city of Machu Picchu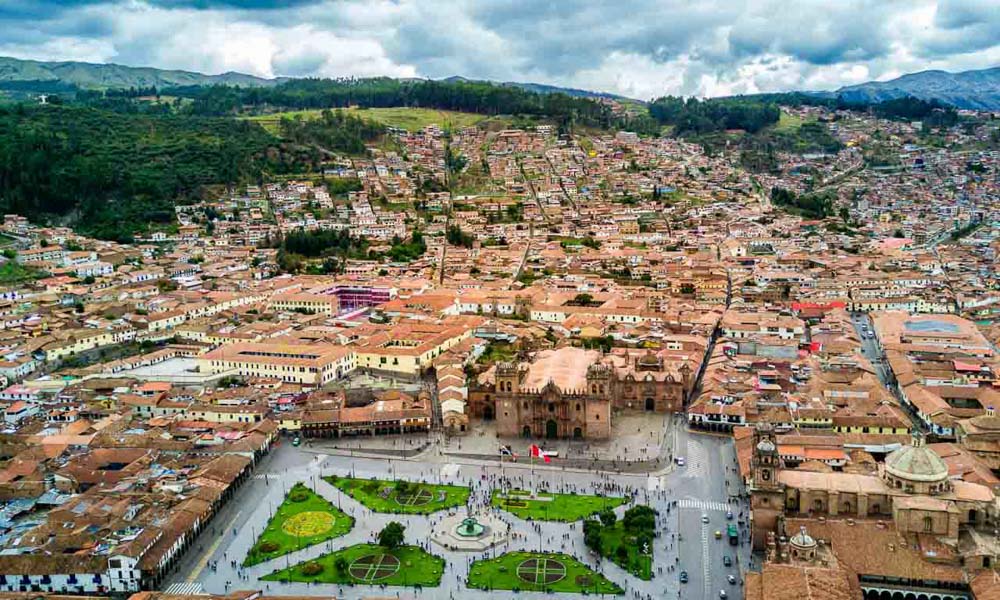 Walk along ancient streets, local markets, and old neighborhoods of Cusco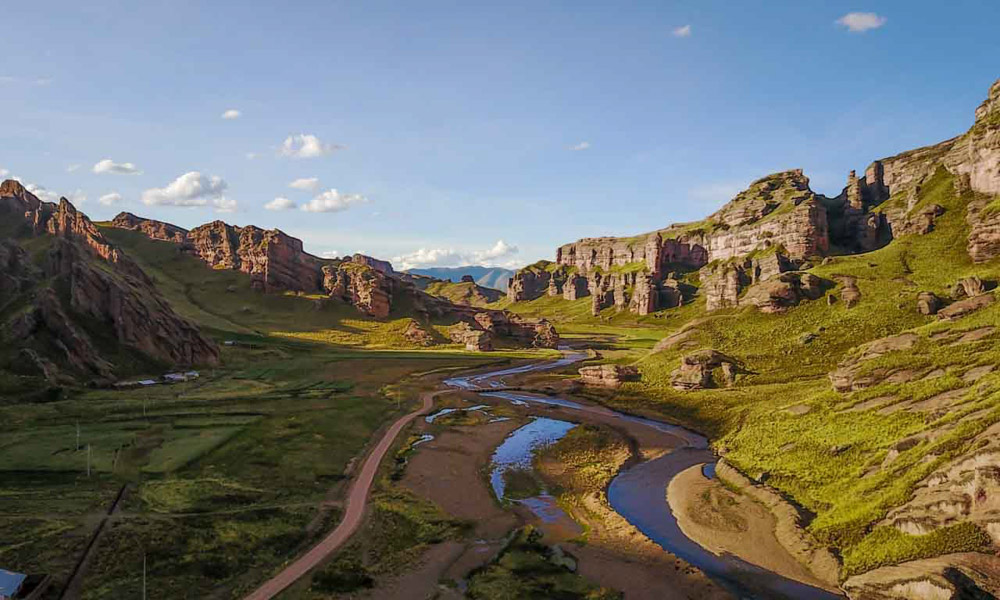 Off the beaten route from Cusco to Puno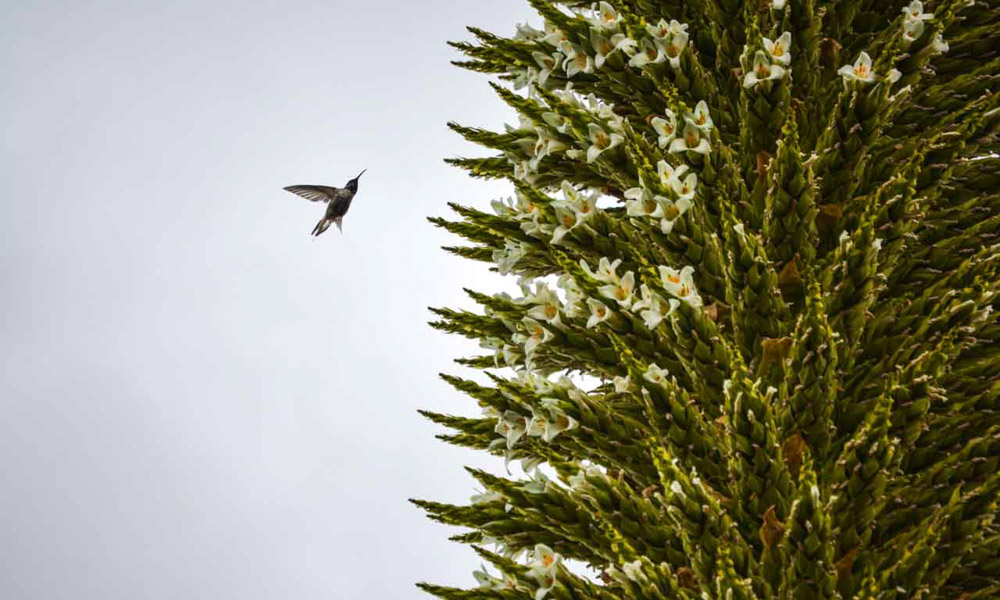 Get to know the famous Puyas Raymondii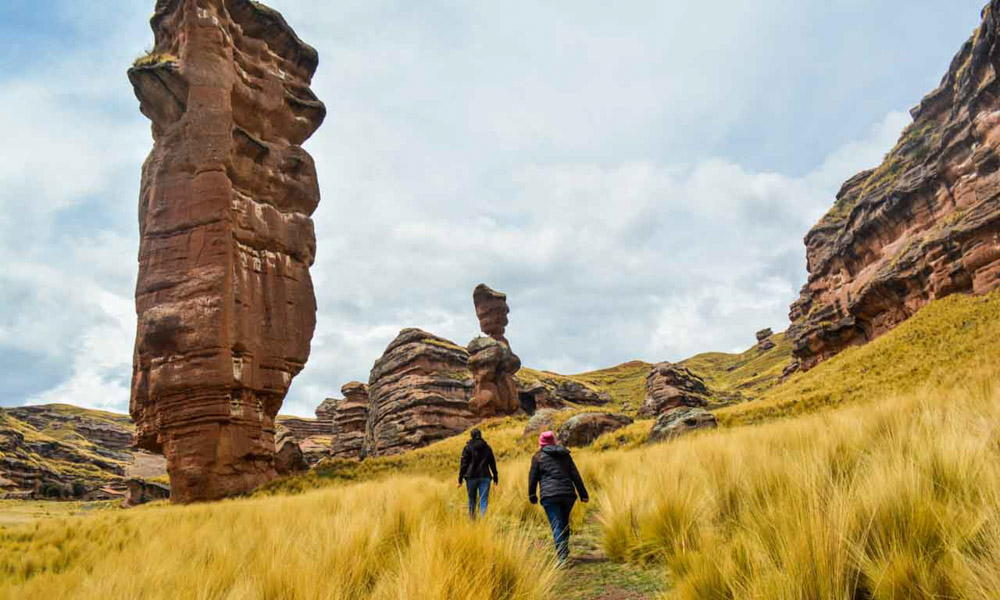 Tinajani Canyon, an area with plenty of peculiar reddish rock formations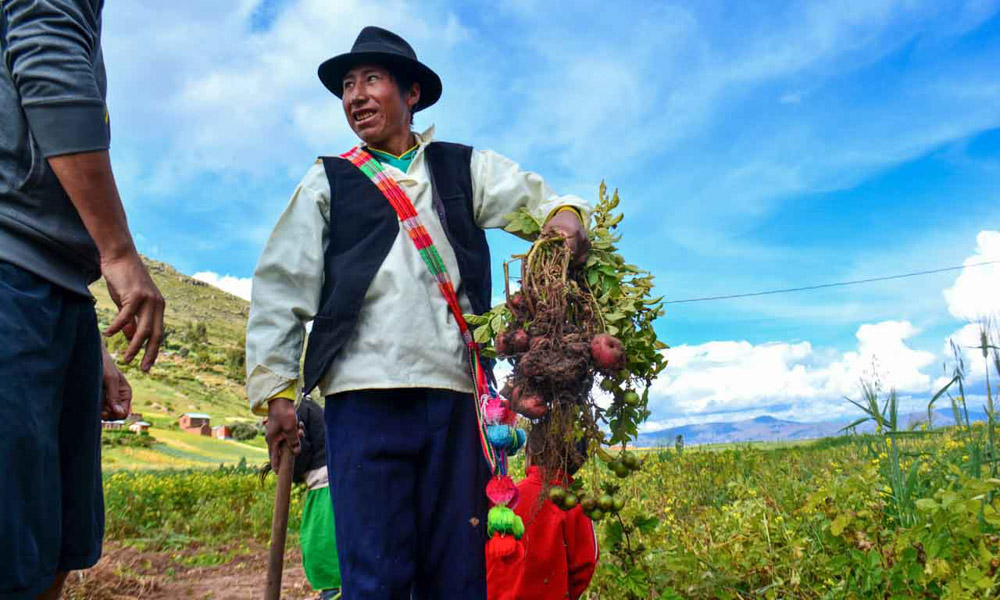 A delicious farm-to-table lunch with your host family
Pachamanca, an ancient cooking technique
Enjoy the sunrise in the middle of the highlands in Puno