Overview
Peru and Bolivia tour, two of the most amazing Andean countries combined in a 2-week journey, arranged to discover the best of the Inca Empire and tranquil lifestyle of the high plains. You will be able to discover the cosmopolitan city of Lima, visit the Sacred Valley of the Incas local workshops, and wonder at the incredible Machu Picchu. Taste the beautiful landscapes of Lake Titicaca and travel to Uyuni to see Bolivia's salt plains, colored lagoons, and surreal landscapes at Eduardo Abaroa National Reserve. A destination for travelers with a true spirit of adventure. Let's go on a marvelous journey and enjoy the deep blue of the Andean skies!
Why we love this trip!
Connect with the villagers' lifestyle in the Sacred Valley as you participate in the local workshops.
Explore the imposing Machu Picchu citadel.
Discover the colored lagoon and salt plains in Uyuni.
Day 1: Welcome to Peru & Lima
Welcome to Peru and Lima! Upon arrival, our local staff will greet you and transfer you to your hotel in Miraflores, where you are free to relax and wander around at your own pace. Depending on your time of arrival, we have plenty of suggestions for you to make the most of your first day in the city.
Day 2: The Must-sees of Lima
Today, we take you back in time through the prehispanic and colonial stages of Peruvian history. This tour is the perfect introduction to our country's culture and way of life. Visit Larco Herrera, a fantastic museum that features the most exceptional exhibits from ancient Peru. Afterward, we head to Lima's historic city center to enter a 16th-Century colonial convent and have a look at Lima's main square. This way, you will see both sides of Peru, our Andean ancestry, and our Hispanic legacy.
Day 3: Flight to Cusco & The Sacred Valley
After breakfast, head to the airport to take your flight to Cusco city, where our local representative will welcome you and take you on our private transport towards the Sacred Valley Incas. Because of its lower elevation (2,870 m or 9,415 ft) and its peaceful atmosphere, this valley is perfect to enjoy your first days. On route, we'll stop at Awanacancha museum to see the different camelids of the Peruvian Andes and, if time allows, we might also stop at the traditional Pisac market.
Day 4: Local Workshops in the Sacred Valley, Maras & Moray
Set off to Chichubamba, a farmer's community, where we'll visit three local workshops: Ceramic, Chicha, and Chocolate making! We'll first arrive in the nearby community, where your host Alcione will meet and welcome you. We'll walk to Bernandin's ceramics studio, where we will have an introduction and take a short hands-on pottery class, then we'll head to Celia's place to learn the making of Chicha de Jora, an ancient drink. Next, we'll go to Monica's house to try and make our very own hand-made chocolate. After lunch, we'll set off on tour to visit some of the Sacred Valley's most impressive sites: Moray circular terraces and Maras salt mines.
Day 5: Ollantaytambo Fortress, Andean Pachamanca & Train to Aguas Calientes
Start your day visiting Ollantaytambo, a charming village that has not changed much since Inca times. This town is famous due to the Ollantantaytambo archaeological site, a place with impressive Inca stonework only seconded by Machu Picchu. For lunch, enjoy a traditional Peruvian food called Pachamanca. Pachamanca, which in Quechua means Earth Pot, is a traditional cooking technique that has the food prepared underground using preheated stones and leaves to separate ingredients from the soil. Later, we'll head to the Ollantaytambo station to board the train to Aguas Calientes town, where you spend the night.
Day 6: The Lost City of Machu Picchu
The big day is finally here! Early in the morning, take a 30-minute bus up the steep zigzagging road to Machu Picchu Citadel, located on an impressive mountain setting. We'll have a 3-hour guided excursion to have a better understanding of Machu Picchu and the Incas culture. Your guide will be happy to answer all the questions you may have. Afterward, return to Aguas Calientes to enjoy a last walk around the town and have lunch before boarding your return train back to Ollantaytambo. Upon arriving, we will take you to your hotel in Cusco city.
Day 7: Cusco Walking City Tour
Strap on your walking shoes and prepare for a soft stroll around Cusco's historic center. Our walking city tour will take us not only through the most touristic sites in Cusco, such as the Main Square, Cathedral, and Koricancha, also known as Temple of the Sun. You will walk along ancient streets, local markets, and old neighborhoods where you will discover the magic of Cusco. This hike is the perfect way to get a more authentic feel of this fantastic city and its people.
Day 8: Free Day in Cusco
Cusco is a fascinating destination in Peru! Today, enjoy the entire day free to explore the streets, plazas, and markets of this UNESCO World Heritage City at our own pace. As you have already explored the most famous sites of Cusco, we invite you to discover more of this beautiful city with its museums and local shops. If you are into arts and crafts, you must take a walk around Cuesta San Blas and visit local workshops and galleries. Likewise, we recommend visiting the San Francisco church for a splendid city view, the Inca Museum, or enjoy a cup of coffee and chocolate at a cozy cafe.
Day 9: Flight to La Paz & Walking City Tour
Take a morning flight to La Paz in Bolivia. Upon arriving, we will welcome you and drive you to your hotel in town. Later, we'll take a 4-hour tour through La Paz, Bolivia's capital. First, we will explore the city center and its markets, looking for some handicrafts, weavings, and more. Afterward, we will continue to el Valle de La Luna, an area where the clay and rock mountain has been worn away by the wind's erosion.
Day 10: Uyuni & Eduardo Avaroa Reserve, Flight to Uyuni & Drive to Villamar
Get ready to enjoy an incredible adventure in Uyuni Salt flats! In the morning, take a flight from La Paz to Uyuni, landing at the salt flats' shores, and leave your luggage at your hotel before departing south towards the high plains. We will pass by the villages of San Cristobal and Culpina K to the fertile and upper valley of Alota. On route, enjoy the beautiful views of the stone formations made by the erosion until the Villamar village.
Day 11: Uyuni & Eduardo Avaroa Reserve, Colored Lagoons & Ojo De Perdiz
Enjoy a fun day in Eduardo Avaroa National Reserve (REA). Early in the morning, we will drive towards this reserve and visit the Laguna Colorada. In this amazing RAMSAR reddish lagoon, there are over 30000 flamingos' nest. Next, head up to observe the geysers Sol de Mañana, passing alongside the Challviri lake and its hot spring. Cross the high desert of Pampas de Dali towards the Laguna Verde, a green lake in the Licancabur Mountain's foothills. Go back to Laguna Colorada and enter the highland deserts of Siloli to visit Árbol de Piedra and Ojo de Perdiz.
Day 12: Uyuni & Eduardo Avaroa Reserve, Uyuni Salt Flats & Colchani
Start your third day of Uyuni exploration! First, have a short trip north through the minor lagoons of Hedionda and Cañapa for astonishing morning views. Continue heading north along with the mountain range towards Alota town. Go through the mountains passing by San Agustin and San Juan villages before the Uyuni Salt Flat and crossing Isla Incahuasi, an incredible landscape of volcanic rock formations and huge cactus. Finally, continue your way to Colchani town, where locals collect and produce salt. If we are lucky enough, we might be able to enjoy a marvelous sunset at the salar!
Day 13: Uyuni & Eduardo Avaroa Reserve, Returning to La Paz
After breakfast, we will drive you to the local airport to board your flight back to La Paz city. Upon arriving, reception and transfer to your hotel. The rest of the day will be free to rest or continue exploring the city.
Day 14: Farewell Bolivia
Today, you will have some free time to maybe take a last walk around La Paz shops and markets, and then, at the coordinated time, we'll head to El Alto airport to board your flight to your next destination.
What's included?
Personalized attention before and throughout your trip
Brief presentation prior departure
All transfers and transports
Entrance fees
Local English-speaking guide focused on personalized trips
Accommodation at well-thought hotels according to your travel style
Mentioned meals
What's not included?
Services not specified in the program, extras & tips
Domestic flights
International flights
Travel Insurance
Route
Gallery
Enjoy the impressive views of the Pacific Ocean from Miraflores district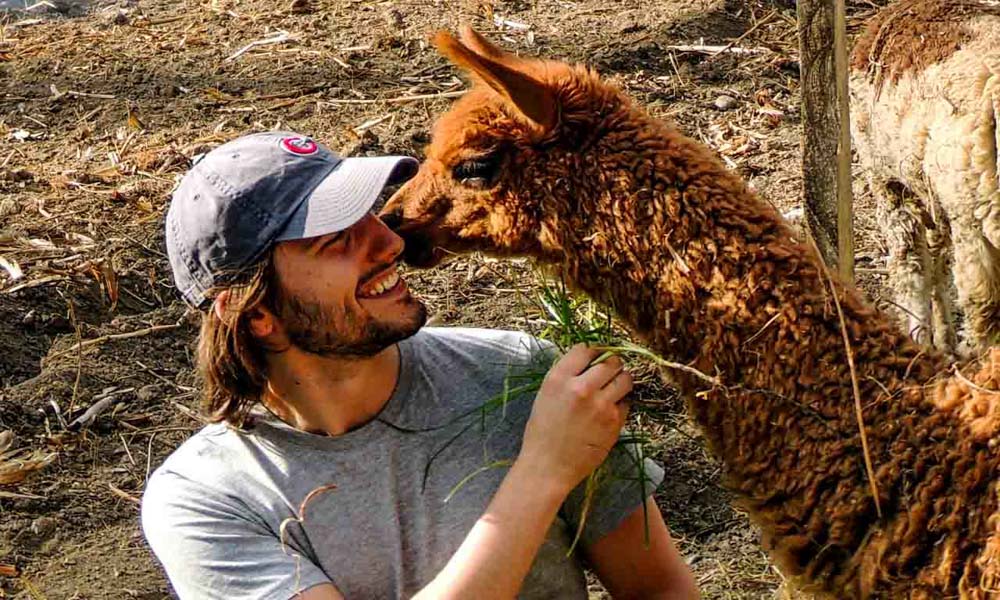 Visit Sacred Valley's most impressive sites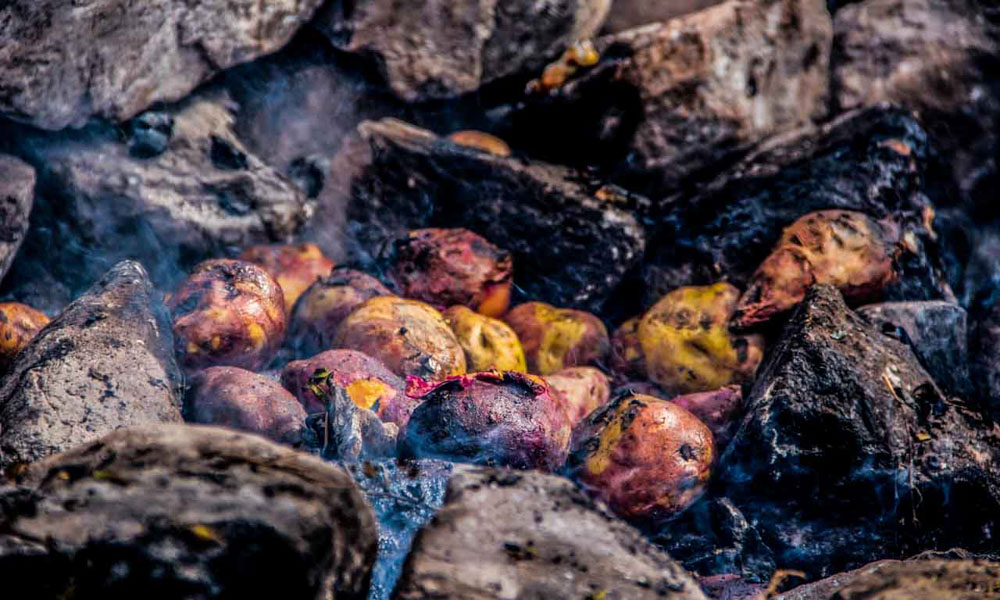 Try a traditional Peruvian food, Pachamanca
Don't leave Peru without visiting the ancient city of Machu Picchu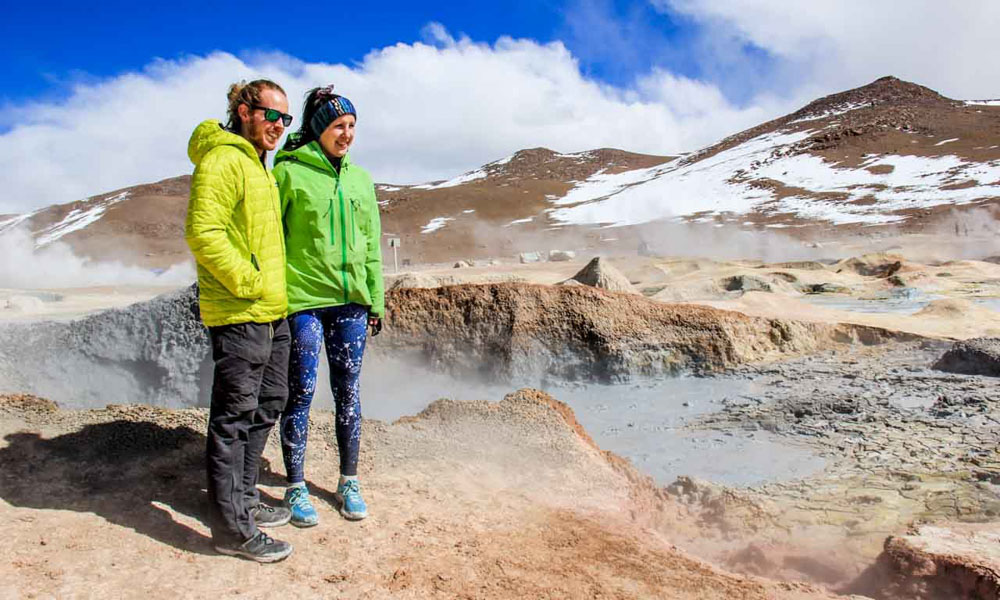 Travel to Bolivia and explore the geysers Sol de Mañana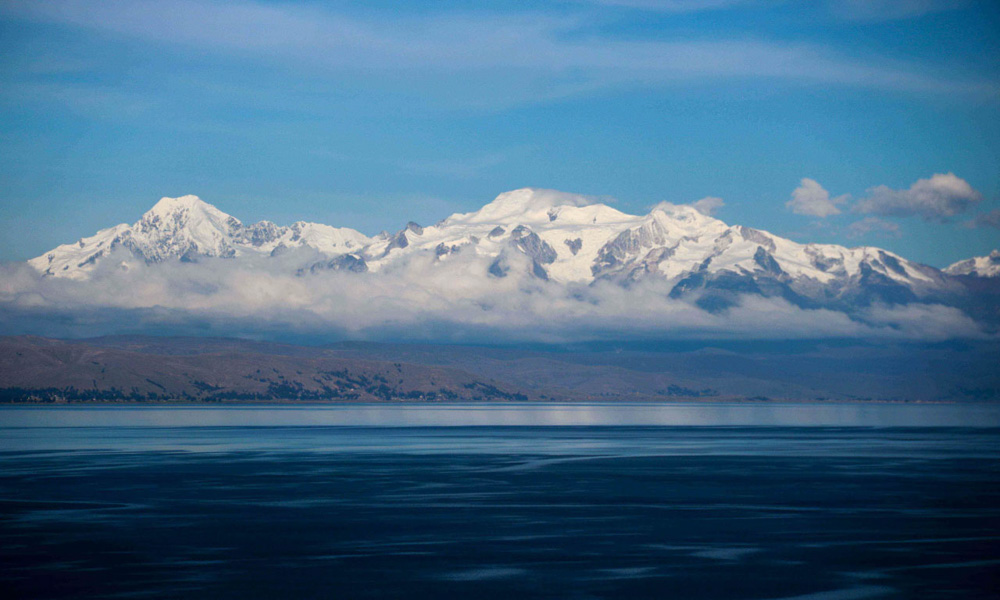 Go through the mountains and enjoy the landscape
Enter the highland deserts of Siloli to visit Ojo de Perdiz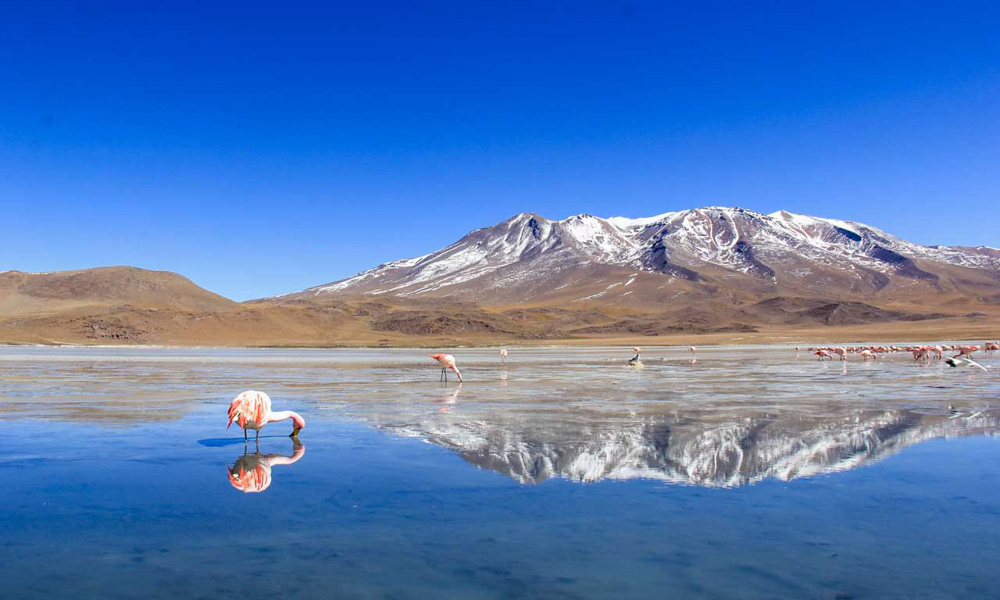 Your hotel is located at the shores of the salt flats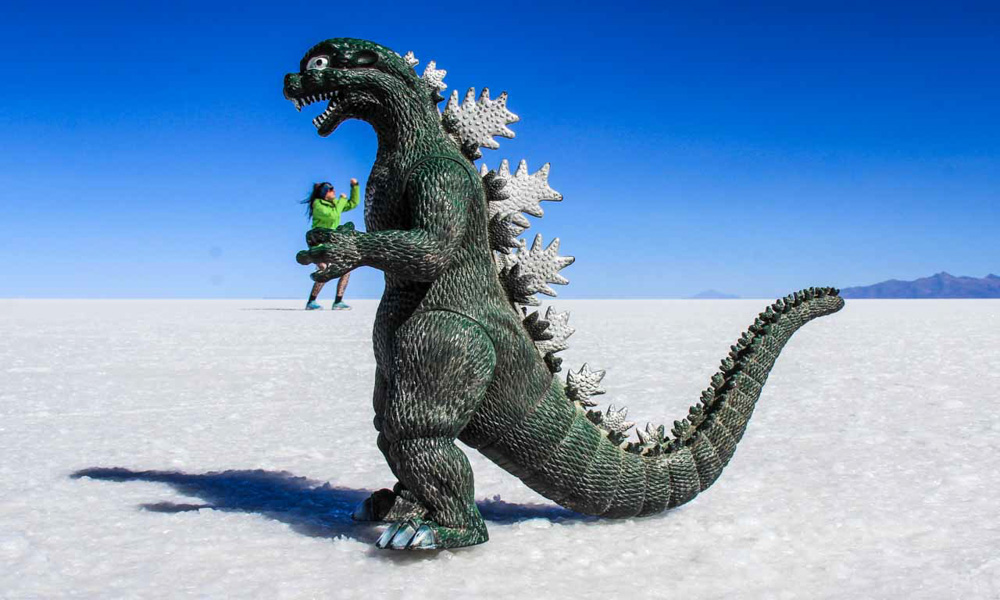 Have fun during your Uyuni Salt flats tours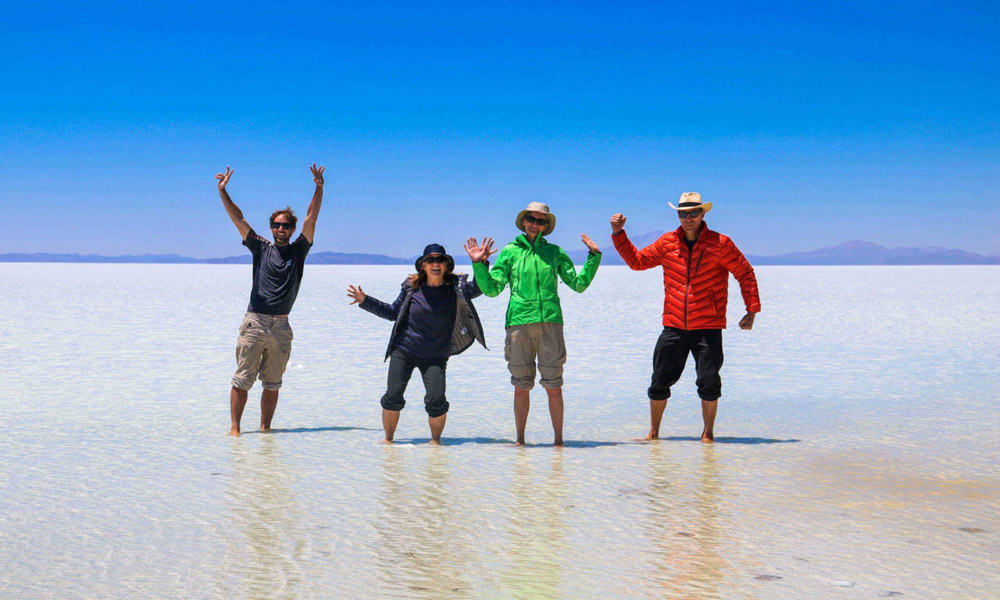 Private guide joining during all the adventure