The beautiful landscapes and the incredible biodiversity of Tambopata make this reserve one of Peru's most stunning. While Lake Sandoval is undoubtedly the most visited area inside the reserve (and a wonderful one!), there are other unique places in Tambopata. Tambopata Research Center is probably the best one to enjoy the wildlife!
Tambopata Research Center

Tambopata Research Center is the most emblematic lodge inside Tambopata National Reserve. Not only is it among the favorite lodges for tourists wanting to spot wildlife, but it is also one of the favorite places on Earth for many researchers and biologists. It is in Tambopata Research Center where the Macaw Project started. Since 1989, researchers from different countries have visited this biodiverse area, finding groundbreaking insights about macaw's behavior. Staying at Tambopata Research Center (also known as TRC) is an experience of a lifetime.
The lodge
First of all, Tambopata Research Center is the only lodge inside Tambopata National Reserve. The lodge is about 2 hours by car plus 4 hours by boat from Puerto Maldonado (Madre de Dios region capital city). Its remote location makes it the best place to watch animals such as monkeys, ronsocos, and tapirs. If you are lucky, you can also see jaguars (you don't even have to be that lucky… 1 out of every 3 tourists get to see a jaguar!).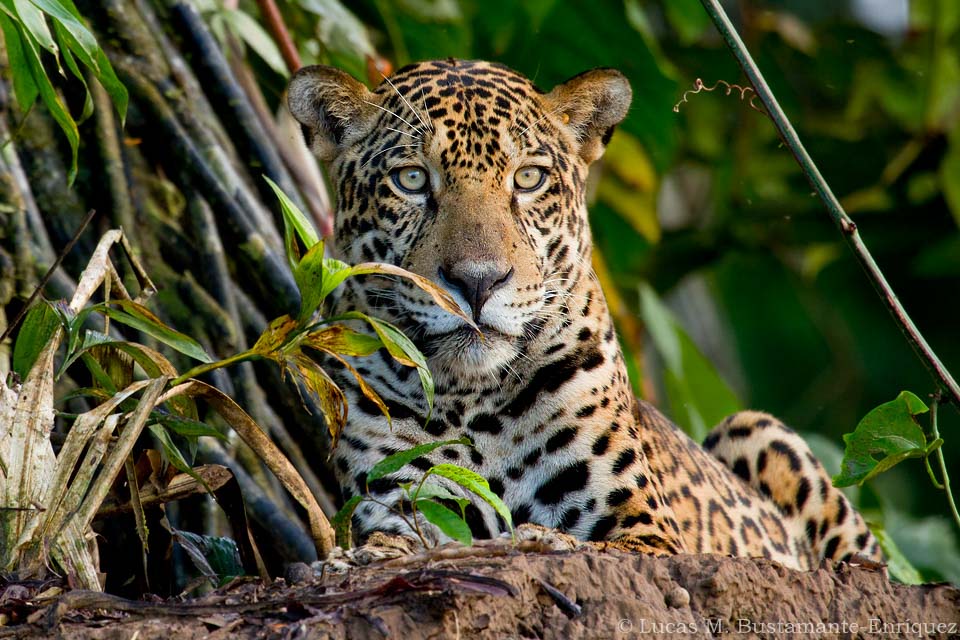 The Macaw Project
TRC is also one of the best places to appreciate macaws. To see them, you will have to wake up early in the morning. You will board a boat, and after only 30 minutes, you will arrive at Colorado Macaw Clay Lick. First, you will not understand why you have been taken to that place to only see an empty clay wall. After a while, you will start listening to the loud sound of parakeets, parrots, and macaws, all screaming simultaneously. All the birds will start flying to and from the clay wall, creating a colorful show that only nature can offer. Tourists often stay watching the birds, relaxing, and having snacks and coffee for a couple of hours until they start flying away.
Many clay licks can be visited by tourists. Clay licks are places where animals go to eat clay. Why do they eat clay? Although we still aren't sure why, two main hypotheses would explain this strange behavior in parakeets, parrots, and macaws. The first hypothesis states that these birds eat clay as a natural detox treatment. There are some seasons when food is limited in the Amazon, non-toxic plants are in short supply, and birds eat the more toxic plant remaining. There are laboratory experiments that show that clay keeps the toxins out of the birds' bloodstream.
A second hypothesis states that these birds eat clay to obtain some nutrients they can't get from the fruits they eat. While scientists are not sure which these nutrients are, some studies suggest it might be salt. Sodium is critical for nerve function and muscle contraction, but it is quickly washed by the heavy Amazon rains. The soil in Amazonian clay licks can store sodium. It typically contains sodium levels 40 times greater than the parrots' food. Whether it is a detox mechanism or a way of obtaining nutrients (or both), watching the colorful birds is a must for every tourist visiting the Peruvian jungle.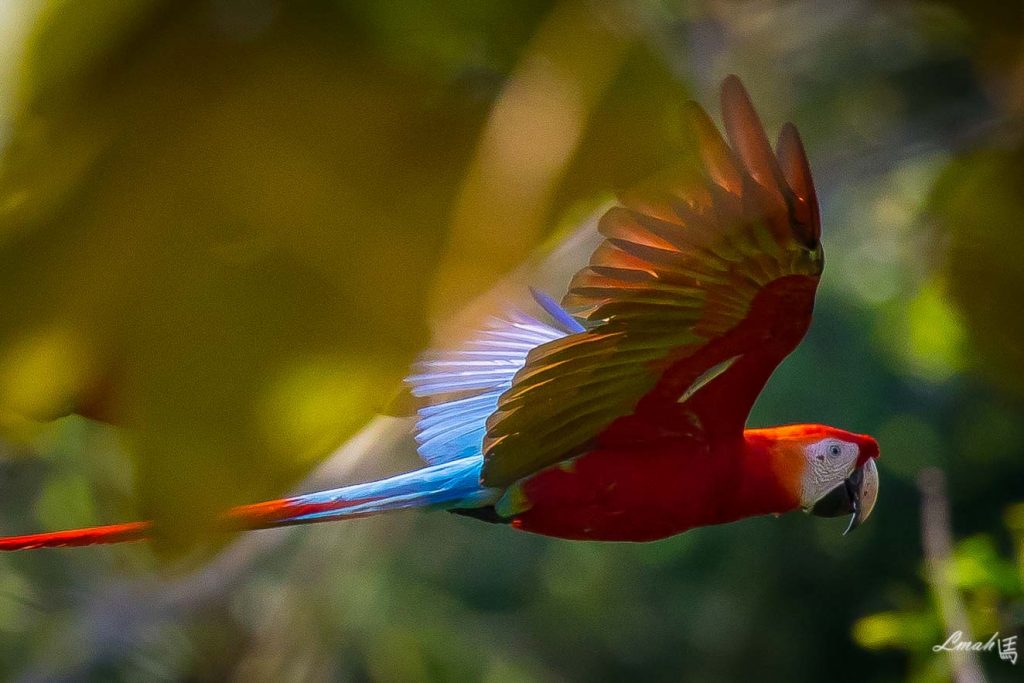 In addition to watching macaws, Tambopata Research Center is an excellent place for people that are into scientific tourism. Once there, it is possible to receive lectures from different researchers studying the macaws or even having an informal conversation with them at dinner. If you encounter a researcher in one of the trails, they might be about to take the macaws down from the artificial nests that are part of the project. If you do, ask them if you can quietly observe while they measure, weigh, and study these beautiful birds. You won't regret it.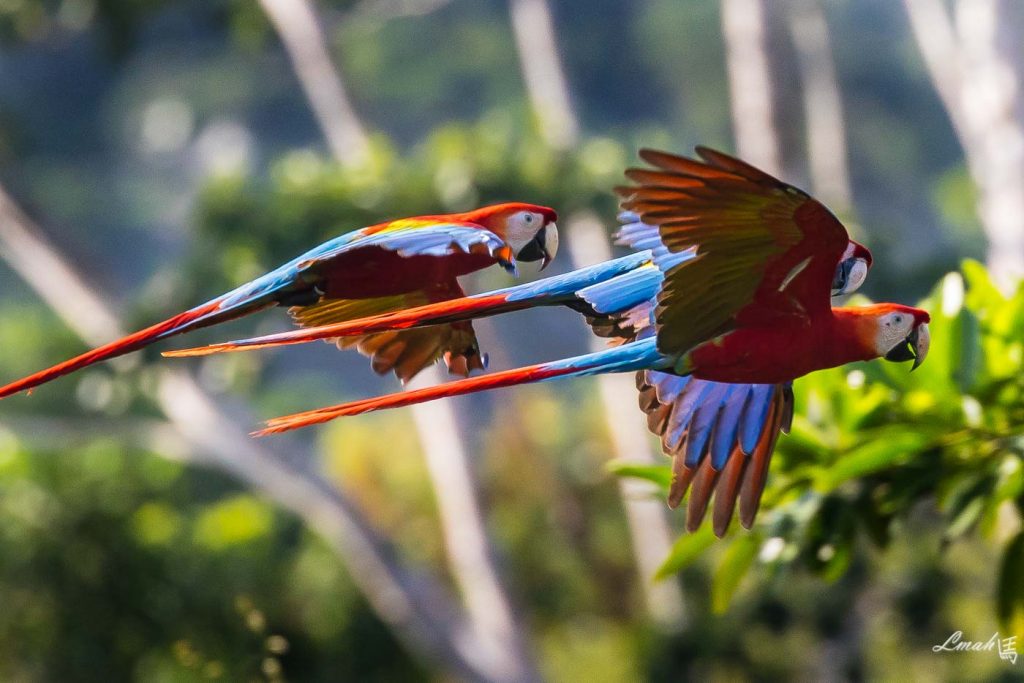 Visiting Tambopata Research Center is not only a way of contributing to macaws' conservation. As scientists clearly explain in their lectures, macaws are "umbrella species." By conserving these umbrella species, it is possible to indirectly conserve many other less charismatic species (such as insects, frogs, and even plants) living in the same ecosystem. Amazon ecosystems face several threatens, such as illegal mining, illegal logging, and agricultural land expansion. Visiting lodges like Tambopata Research Center contributes to the conservation of the Peruvian jungle. If you are into nature, we highly recommend you to visit TRC. You will be able to admire nature while enjoying its amazing and eco-friendly infrastructure.
Click here to start planning your next journey!