The Andes is what comes to many people's minds when they think about Peru. But, did you know that more than 60% of Peru is actually part of the Amazon Rainforest? Most travelers only associate Peru to Machu Picchu, but our country is so much more than that! A destination bursting with biodiversity, we firmly believe that the Peruvian jungle is one of the best places in South America to experience the Rainforest. In this post, we'll share with you our top picks for lodges in the Peruvian Amazon Rainforest.
#1 Tambopata Research Center

Known as the most remote ecolodge in South America, Tambopata Research Center is the only lodge located in the heart of the Tambopata National Reserve. The jungle here has remained well preserved for generations and offers excellent opportunities for wildlife viewing, especially macaws. By staying here, you will not only experience sustainability at its best, paired in a very charming property. You will also have the chance to learn and support the research and conservation projects of endangered macaws and many other species that are carried out there.
#2 Manu Wildlife Center
Explore the depths of the Amazon Jungle in one of the most biodiverse areas in the world, Manu National Park. Manu Wildlife Center is excellent for hiking along the amazing wildlife trails and spotting a wide array of Amazonian flora and fauna, particularly bird species. The lodge is equipped with 20 independent, very comfortable cottages located a few feet above the ground, and an observation tower where you can come face to face with the tree canopy. Manu Wildlife Center offers the possibility to see the big lowland Tapirs at a nearby forest clay lick and, of course, the beautiful jaguar.
#3 Inotawa Lodge
Inotawa lodge is an excellent option in the Tambopata National Reserve for the people willing to sacrifice some comfort to have an authentic and not so expensive amazon experience. At Inotawa Lodge, you won't only find incredible views, excellent professional naturalist guides, basic but charming accommodation, and fantastic food. Inotawa Lodge is managed by a family committed to the conservation of the La Torre community and its Rainforest, where they are located.
#4 Inkaterra Reserva Amazónica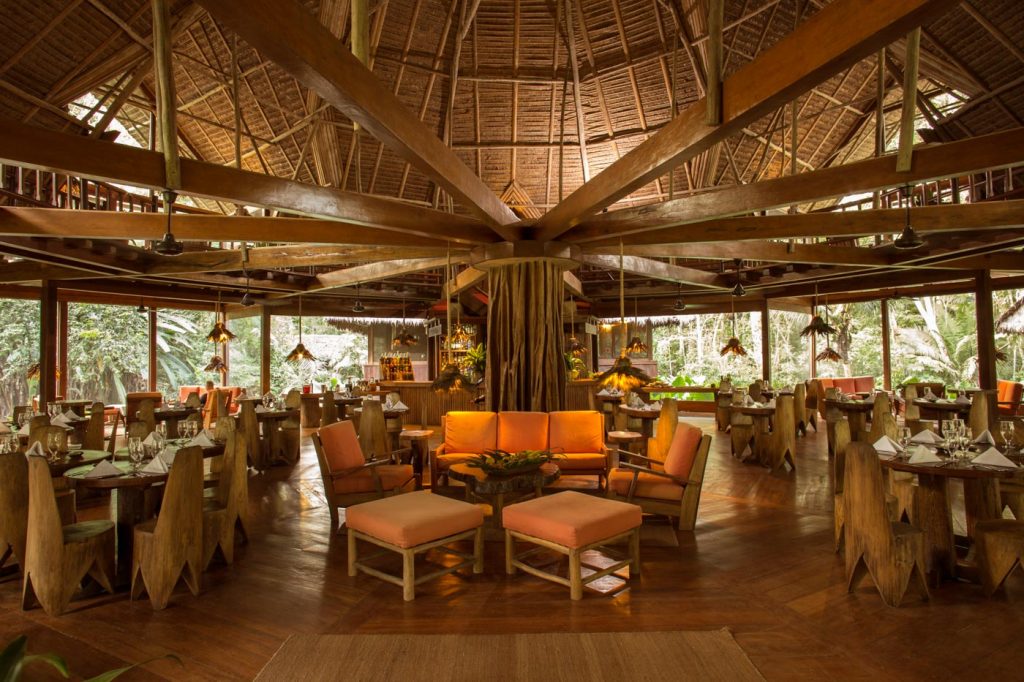 Exotic and comfortable, Inkaterra Reserva Amazonica is located in a private conservation area in Madre De Dios. What we love about this lodge is that they have an excellent record in helping local communities benefit from sustainable tourism. Inkaterra Reserva Amazonica is particularly appealing because it owns a fantastic canopy walkway circuit with bridges hanging amidst lush Amazonian treetops – an adventure you don't want to miss!
#5 Tahuayo Lodge
The distant Tahuayo Lodge is located at the heart of the Northern Amazon Rainforest near Iquitos in the province of Loreto. Flora and fauna here are so stunning that it's no wonder this lodge was once proclaimed one of the world's ten best wilderness lodges by Outside Magazine. What's great about this lodge is that you can customize your own itinerary, choosing the activities that interest you the most without getting stuck with a massive group of tourists. There're over 40 different activities for you to choose from, but our favorite ones inevitably include having a go at their canopy zip line system, exploring native communities downstream, and canoeing.
#6 Muyuna Lodge
Located next to the Amazon River, Muyuna Lodge is one of the few lodges that actually guarantees you'll see sloths, monkeys, and pink dolphins, a beautiful but shy species in the Rainforest. The contact with nature is breathtaking from the moment you start navigating along the river in this one of the world's new seven wonders of nature. The lodge is a series of independent, top-quality bungalows that blend in harmoniously with the natural surroundings. Curious fact: during the rainy season, water levels rise in the Amazon River, which makes Muyuna Lodge seem to practically float above it!
#7 Posada Amazonas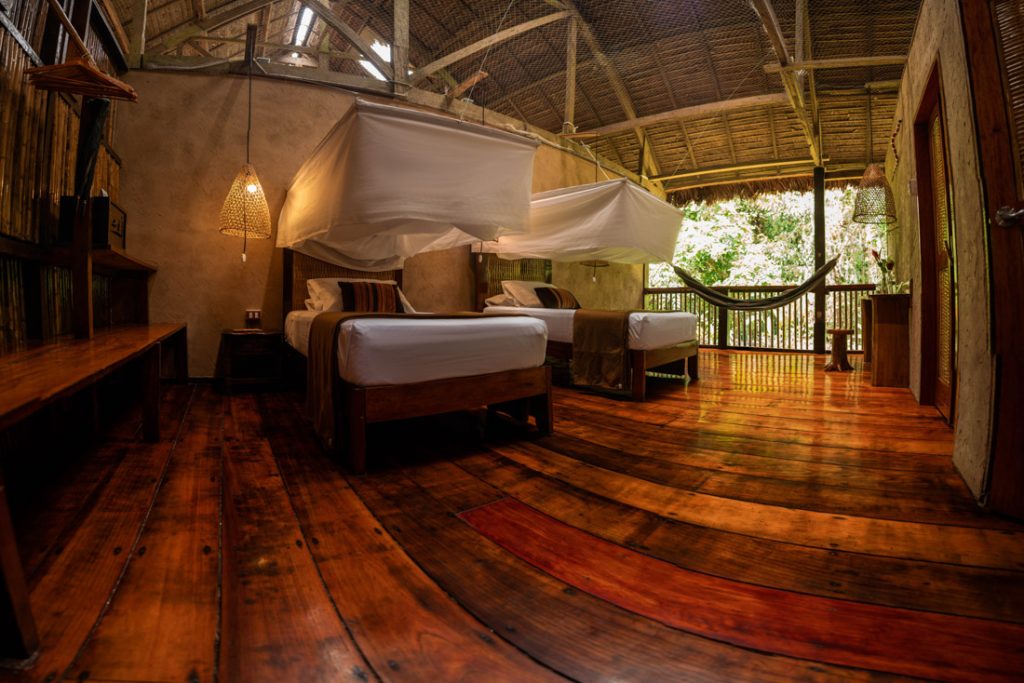 If responsible travel is your way to go, this is the option for you! At Posada Amazonas, you won't only find a lovely and charming lodge in the Ese Eja's pristine communal reserve next to the Tambopata National Reserve. You will actually take part and support the social venture of this local community by staying at the lodge managed entirely by them in partnership with Rainforest Expeditions. Here, you will explore the vast forest recovered in the last 20 years, which has made it a fantastic area to foster diverse species of flora and fauna once again.
#8 Refugio Amazonas
Located in a pristine reserve in the buffer zone of the Tambopata National Reserve, Refugio Amazonas offers a great variety of options. Whether you are a veteran explorer, a casual traveler, or a family with kids, this cozy lodge offers a-la-carte activities that you can choose from according to your interests. Staying at Refugio Amazonas also guarantees that you are supporting fairer tourism and conservation projects in the Peruvian Amazon while you enjoy an incredible trip.
| | | | | | |
| --- | --- | --- | --- | --- | --- |
| Lodges | Location | Access | Wildlife | Highlights | Category |
| Tambopata Research Center | Inside the Tambopata National Reserve | 1-hour drive to the local port. 2-hour boat trip to the lodge along the Tambopata River. | The best for watching macaws. It's also likely to be spotted: White Lipped Peccary, Spider Monkey, and Red Howler Monkeys. One in three travelers has spotted jaguars! | Macaw Claylick and conservation project. Located right in the middle of the Tambopata National Reserve. Excellent guides. High chances to spot wildlife. A-la-carte excursions. | Comfort / Deluxe |
| Manu Wildlife Center | Near Manu National Park | 3.5 hours drive to Boca Colorado. 4.5 boat trip to the lodge. | Diverse bird species such as parrots, macaws, and the Peruvian national bird Cock-of-the-Rock. Some mammals are also spotted, such as the giant otters, monkeys, and the huge Lowland Tapirs at a forest clay lick. | Located near the Manu National Park, one of the largest protected areas in the world. Great chances to spot tapir at the nearby clay lick | Standard / Comfort |
| Inotawa Lodge | The buffer zone of Tambopata National Reserve | 1-hour drive to the local port. 1.5 hours boat trip to the lodge along the Tambopata River. | Variety of bird species, including parrots and macaws. Capybaras, caymans are turtles that can be spotted occasionally. | Great location. Amazing food. Supports the conservation of the Amazon Rainforest. | Standard |
| Inkaterra Reserva Amazonica | The buffer zone of Tambopata National Reserve | 45-minute drive to the local port. 1-hour boat trip to the lodge along the Madre de Dios River. | Great for bird-watching! | A-la-carte excursions. Jungle treks and paddles Canopy bridges circuit Getting involved with local communities | Luxury |
| Tahuayo Lodge | Tamshiyacu-Tahuayo Reserve, near Iquitos | 30-minute drive to the local port. 4-hour boat trip to the lodge along the Amazon River. | You're bound to see squirrel monkeys, tamarins, titi monkeys, coatis, giant anteaters, sloths and many bird species. | Canopy Zipline Visiting native communities downriver Breathtaking flora and fauna Pink dolphins | Standard |
| Muyuna Lodge | Tamshiyacu-Tahuayo Reserve, near Iquitos | 30-minute drive to the local port. 4-hour boat trip to lodge the Amazon River. | Lots of fauna to see! Monkeys, birds, sloths, pink dolphins, fish, caimans, all of them in their natural habitat! | Pink dolphins in the early morning while having breakfast on a boat Swimming in the Amazon River Victoria Regia, the biggest aquatic plant in the World | Standard |
| Posada Amazonas | The buffer zone of Tambopata National Reserve | 1-hour drive to the local port. 50-minute boat trip to the lodge along the Tambopata River. | The best for spott Red Howler Monkeys, Giant River Otter, Hoatzin and birds. | Ethnobotanical Center Rarely visited Tres Chimbadas Oxbow Lake Good option for families. Highest canopy tower in south america. 100% managed by the Ese eja community. | Standard |
| Refugio Amazonas | The buffer zone of Tambopata National Reserve | 1-hour drive to the local port. 1-minute boat trip to the lodge along the Tambopata River. | Very likely to see macaws and mammals such as Capybara. White caimans are often seen. | High chances of spotting Harpy Eagle. Great for families with kids. | Comfort |