Dining in Peru is one of the top activities to do when in the country, and with good reason! It's been years since Peru has been considered to have one of the best cuisines around the world, with some of the World's Best Restaurants located here. However, what those world-class restaurants share with small ones and even local homes are the amazing flavors of those traditional Peruvian dishes.
If you are already familiar with Peruvian food, you may have already heard of, or even tried, Ceviche, Lomo Saltado, and Pisco Sour. Of course, those are our most popular dishes, even for us as Peruvians. But food in Peru is a whole new world and one of the things we Peruvians take great pride in. So, today, we want to share more about our most popular dishes.
Ceviche
A refreshing dish made with raw fish, lime, aji limo (chili pepper), and onion as the main ingredients. This dish has its origins back in the pre-Columbian times, with the Mochicas. They were supposed to eat fish in small cubes with salt, pepper, and "tumbo" (citric flavor). However, it was not until colonial times that the tumbo was replaced with lime juice, and, along with the Asian cuisine influence, it became the Ceviche we enjoy now.
Of course, Ceviche is not exclusive to Peruvian cuisine, and we can find it from Mexico to Chile in its own unique versions. However, what makes the Peruvian Ceviche different is the preparation and the very few ingredients used because this dish is mainly focused on a fish and its freshness. So, if you were wondering, yes, the fish you'll eat in Ceviche is fresh, cold, and raw, kind of similar to sashimi but a bit seared with lime juice. Ceviche definitely takes the crown as the most loved Peruvian dish.
Lomo Saltado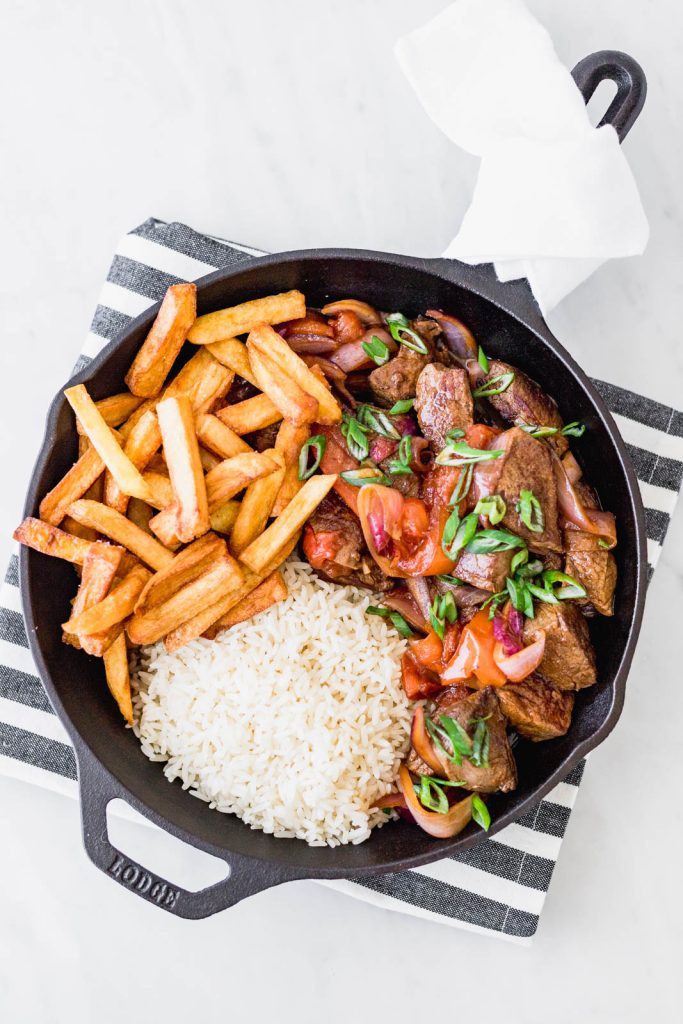 Another favorite of us, and everyone who tries it. Lomo Saltado is just a feast in the palade. Made with beef, red onions, ají amarillo (yellow pepper), tomato, and soy sauce, as the main ingredients. This dish is an all-time favorite and is served with white rice and french fries on the side. What better than that? This stir-fried dish has its roots in the Chinese-Peruvian fusion cuisine that started back in the 19th century with the Chinese immigration to Peru.
You can't go wrong with this. So, if you don't know what to order at a restaurant, get a Lomo Saltado. You'll love it.
Aji de Gallina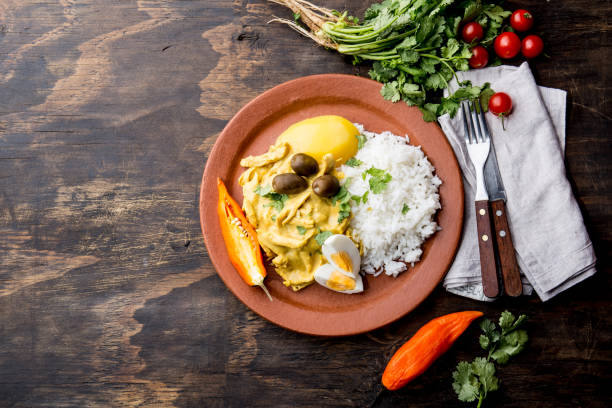 Although its "interesting" appearance, Aji de gallina is the most loved dish in Peruvian households. For the record, there is no single Peruvian I have met so far that doesn't like it, and, honestly, it's delicious. Aji de gallina is a creamy sauce made with white bread, ají amarillo (yellow pepper), and chicken. Yes, the dish name suggests hen, not chicken, but despite that minor detail, it's made with chicken nowadays.
This interesting Peruvian dish became very popular in Lima in 1839 when the small restaurants of the city started to serve it to the locals. The origins of this dish may have been in the Spanish "Manjar Blanco", a desert. However, some ingredients were replaced over time, and aji amarillo was added, creating the savory and spicy dish we know.
That said, Aji de gallina is a delicious dish worth trying!
Causa Limeña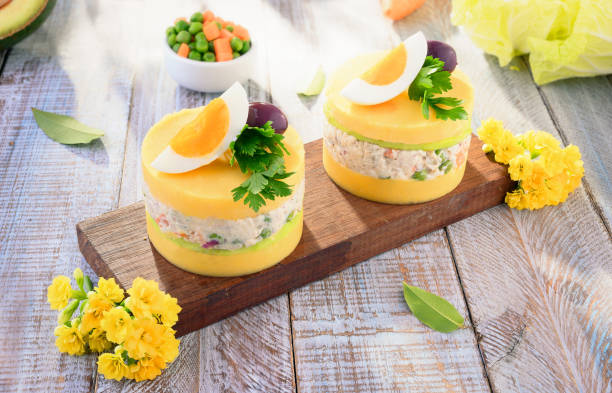 A historical dish that has made its way through the most popular ones in Peruvian cuisine. It is actually an appetizer, but it's also served as a main dish. La Causa Limeña looks like a layered potato salad, made with a dough of mashed yellow potatoes, lime juice, and aji amarillo paste (yellow peper), and then filled with vegetables, fish, or chicken with mayo. It's served cold and is one of the favorite summer dishes for Peruvians.
This pre-Columbian dish is named after "kausay", a Quechua word. But, it's also believed that its name was given during the colonial times, when locals used to sell this dish on the streets to help solve the expenses of the independence campaign, as a common purpose or "por la causa" in Spanish. Such a peculiar name!
Papa a la Huancaina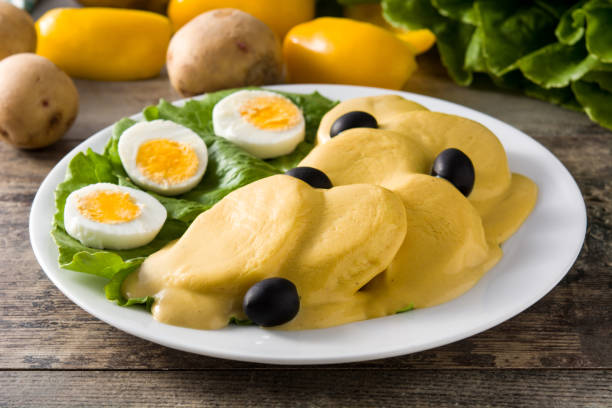 At this point, you may already note that Peruvian love potatoes, and with good reason. Potatoes are originally from the Andes of Peru, and this country holds more than 3000 varieties! So, it's no wonder that Peruvians have so many potato dishes, and Papa a la Huancaina is one of the most popular among them. You will find it pretty much everywhere as an appetizer or as a side dish to accompany spaguetties or Arroz con pollo. Huancaina is a rich and creamy sauce mostly served on top of boiled potatoes. It is a little spicy since it's made with aji amarillo, as well as crackers, onions, milk, and cheese.
Anticuchos
The king of the Peruvian street food, Anticuchos. A unique grilled meat skewers dish made of beef heart and seasoned with aji panca (red pepper paste) and spices. Anticuchos have a Pre-Columbian origin and were consumed by Peruvians way before the arrival of the conquerors to America. However, thanks to the influence of the enslaved Africans back in the colonial times, llama meat was replaced, and Anticuchos became what they are now. For some people, eating "beef heart" is a no, but don't be fooled. There is no other flavor than a grilled anticucho with some corn and ají (pepper sauce) on the side.
Now that you know more about these special and delicious dishes, it's time to give them a try! Don't forget to visit some restaurants the next time you are Peru. Here you can find a list of our top picks in Lima city.
Enjoy!