Tambopata Reserve, Madre de Dios
Refugio Amazonas is located in a 200-hectare own reserve within the buffer zone of the Tambopata National Reserve. To reach this lodge, you need to take a quick flight From Lima or Cusco city to Puerto Maldonado airport, in southeastern Peru. They will contact you and take you to the main office to leave some extra luggage and give you some advice. After that you will continue by car for 1 hour and finally 1-hour on the Tambopata River by boat. The main port of access is about fifteen minutes away from the lobby, and it has around 70 steps to go up.
Rooms
Refugio Amazonas has been built using traditional native materials with modern eco-friendly technology in harmony with its surroundings. This lodge offers 32 guest rooms in four buildings and is connected to the lobby and main area by bridges. The rooms are very cozy, and it is super relaxing to swing in the hammocks. They all have an open wall facing the Amazon rainforest, so you can hear and wake up to the sounds of the jungle in the morning. All rooms have a private bathroom with a hot shower and eco-friendly toiletries, including biodegradable shampoo, conditioner, and liquid soap.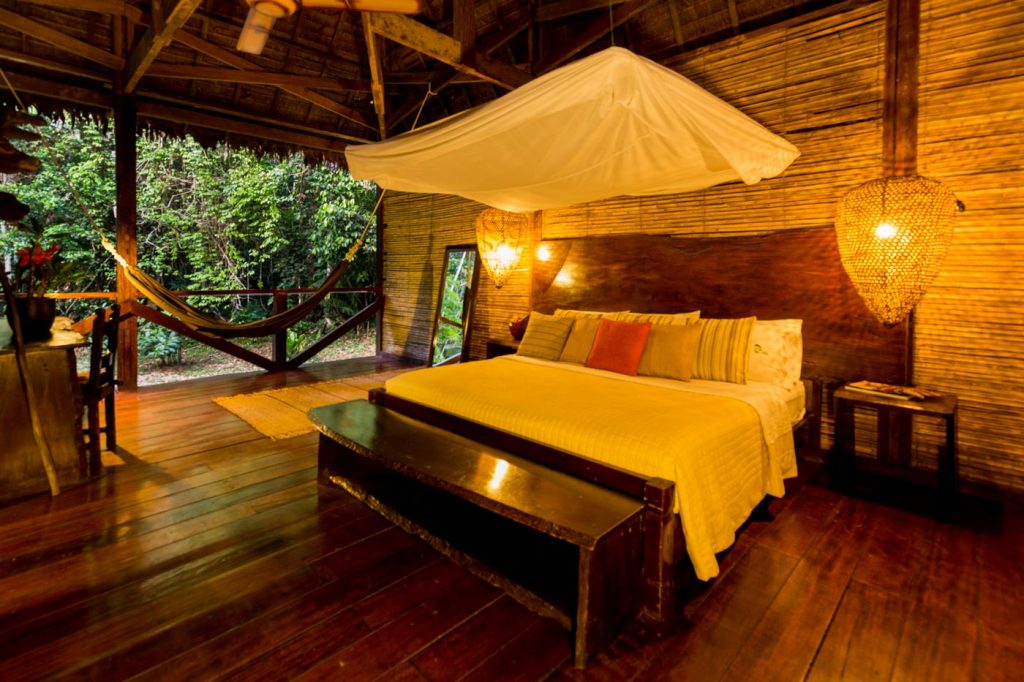 Common areas
There are many spaces where you can have a relaxing time after your morning tours. All the lodge areas have open-facing rooms to the jungle to keep you in touch with nature. There is also a small shop for souvenirs.
Reserva Amazonica has a small spa on the upper floor that offers treatments with local herbs and ancient techniques that help cleanse and balance the body's energy channels.
Dining
The lodge has a spacious dining room where they serve delicious dishes of this part of Peru. The dishes offered have been balanced for all options such as vegetarian, vegan, and special requests. On the self-service menu, you will find soups, salads, and vegetarian options. Also, they offer hot drinks such as coffee, tea, hot chocolate, and fresh fruit. Finally, the bar serves delicious cocktails like the passion fruit pisco sours and others.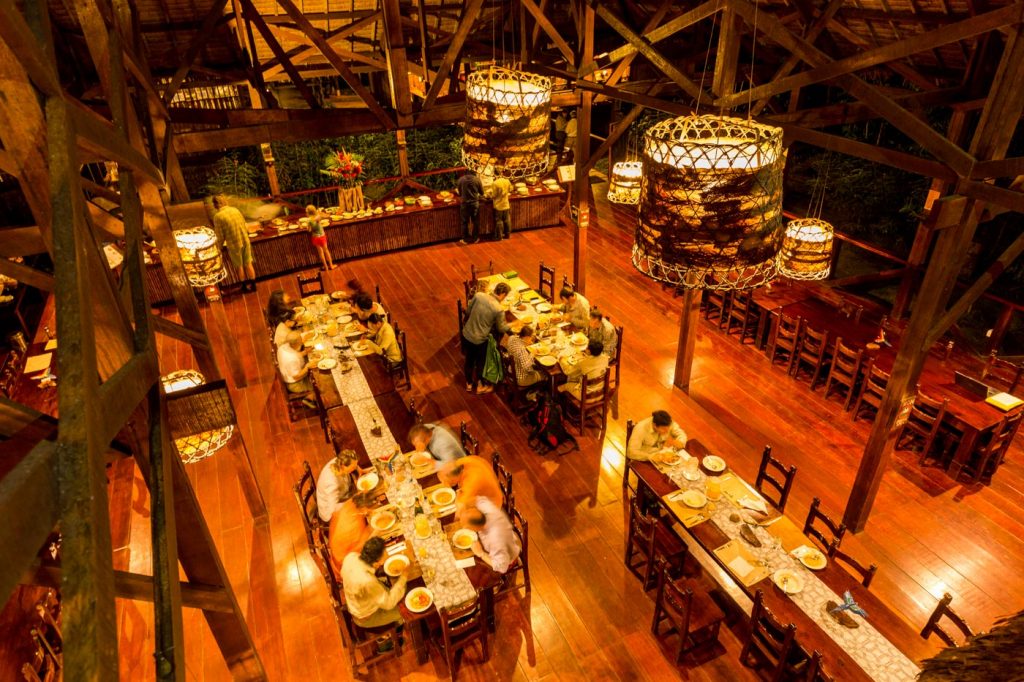 Experiences
Reserva Amazonica offers a-la-carte experiences. You will find activities that require early starts and long walks or shorter trips to explore the surroundings:
The Ese Eja de Infierno native community shares stories and traditions in their interpretation center.
Study tours and workshops for explorations of rainforest biology and natural history
The lodge offers adventure trips for families with children.
The macaw clay activity: For this activity, you need to wake up at five in the morning, then two hours by boat trip. This activity is the most popular when you are in the Amazon forest.
The lodge has soft adventure activities, like stand-up paddle, kayaking, an excellent trail system to discover by day and night the majestic jungle, canopy tower, biking, the ethnobotany, and orchid trails.
You will enjoy the famous otters living in a Cocha while you are in a boat. 
Insider's recommendations
There are filtered water stations free around the resort to quench your thirst before and after your tours.
The lodge has many open windows to the forest; this style of architecture is part of the experience, which permits visitors to feel nature and wildlife.
The Refugio Amazonas offers unique programs for children in this part of the Peruvian Amazon-like rainforest trail and some soft adventures for families.
They work closely with people from the community of Infierno, the nearest settlement to the lodge.
Dennys Yupanqui is a Peruvian chef who developed the menu in this lodge. He wants to offer the fresh ingredients and many options of the three natural regions of Peru in his menus.
Don't bring any food or sweets to your room unless you want an unexpected encounter.