Overview
Live an incredible adventure, riding your E-Bike on the shores of glimmering lakes, impressive canyons, beautiful valleys with views of active volcanoes, and downhill roads into the cloud forest. This 14-day journey offers you lots of adventure, nature, living cultures, and the most beautiful scenery that you can only reach by e-bike. Our e-bikes are the perfect way to explore Peru's challenging geography smoothly. The extra power of the e-bikes will let you ride uphill leisurely and longer distances per day. You'll explore the highlights of Southern Peru, such as the Colca Canyon, Lake Titicaca, and Machu Picchu, but all of them through less untouched routes. This new circuit was developed by Peruvian Soul in 2018 to offer our guests a different way to explore our country!
Why we love this trip!
Explore the impressive Puya de Raimondi's forest and the Tinajani Canyon.
Bike by the shores of Lake Titicaca and experience the rural lifestyle of the Andes.
Enjoy a downhill ride from the highlands to the cloud forest of Machu Picchu.
Day 1: Welcome to Peru & Arequipa
Welcome to Peru and Arequipa! Upon arriving, we'll welcome you and take you to your hotel. Arequipa is the perfect place to start getting used to the altitude smoothly. Today, we'll assign you the e-bike that you'll have during the whole journey.
Day 2: Riding through Arequipa's Countryside to Huanca
Leave Arequipa heading to Huanca, a small town in a valley dedicated to farming and livestock. The drive will take about 2 hours before starting our biking adventure. The first bike is through an almost flat terrain, which is the perfect way to start getting used to our bikes and equipment. Take a short break and enjoy the scenery, overlooking the fuming volcanoes on the horizon. From the highest point of the route, enjoy a beautiful view of the valley with amazing terraces of different colors.
Day 3: Cycling to The Colca Canyon – Volcanoes Lookout and Coporaque
Get ready to begin our journey towards the Colca Canyon at 160km away from Arequipa. Enjoy beautiful views of the Misti, Chachani, and Pichu Pichu volcanoes as well as pre-Inca terraces on the route. Our biking excursion will begin just before we reach a viewpoint called La Ventana, a peculiar rock formation with great views.
Day 4: Chimpa Fortress, Condors Viewpoint & Hot Springs
Head to the imposing Chimpa fortress, a Castle-like Collagua fortress with amazing views of the Canyon, and have a one-hour drive along the right side of the Colca Valley. If we are lucky, we'll get to see the flight of majestic Andean Condor. Make your way back peddling and connecting the towns of Madrigal, Lari, Ichupampa, and Yanque, traditional Andean Villages with lovely colonial churches and beautiful views of the valley. Finally, go back to your hotel and optionally visit the Coporaque hot springs.
Day 5: Journey to Lake Titicaca & Biking Around Sillustani
Begin your journey to Puno and enjoy the views of huge lagoons, stone forests, and small Andean farmhouses. On route, we'll stop at Patapampa lookout to observe the surrounding volcanoes and snow-capped mountains as well as some South American camelids. Visit the pre-Inca tombs of Sillustani, located on a hill in Umayo Lake before, arriving in Puno. It is a very place with a unique energy that you'll notice right away!
Day 6: Lake Titicaca & the Chucuito Peninsula
Begin your biking exploration through Lake Titicaca for an hour until the rural area around the community of Ilave. From here, start biking towards the shores of Lake Titicaca, passing by small traditional villages and stunning landscapes. After a picnic lunch, arrive at a lookout in the Chucuito Peninsula and enjoy the panoramic views of the Taquile and Amantani Islands. Get back on track and continue hiking through a well-preserved Prehispanic path and pristine beaches to the community of Karina. Finally, head to Luquina Chico, where our host families will be waiting for us.
Day 7: Sailing in the Lake Titicaca & Biking Back to Puno
Join the locals and go sailing on board of traditional sailing boats in Lake Titicaca, the highest navigable lake in the World. Relax and enjoy the landscape overlooking the lake. After an early lunch, get ready once again to continue riding your e-bike to the other side of the Peninsula. Finally, board our private transportation to Puno.
Day 8: Lampa, Biking To Tarucani, Tinajani Canyon & Tambo Queque Norte
Leave Puno in the morning and cross Juliaca city as we drive to Lampa village, a charming seldom-visited town. Reach Tarukani, where we'll see the Puyas RaymondIi, a peculiar endemic plant that only grows in the Andes' remote areas. As we descend from Tarukani, enter the Tinajani Canyon, an area with plenty of unique rock formations and amazing sceneries. From here, we'll continue towards Tambo Queque Norte, a charming country manor surrounded by mountains where you will spend the night.
Day 9: Scenic Route to the Sacred Valley Through the Four Lakes
Enjoy a home-made breakfast and get ready to continue your route to the Sacred Valley of the Incas. After setting off, pass by La Raya, the division point between the provinces of Puno and Cusco, and cross Sicuani, from where today's biking route will start. Today's route crosses Cuatro Lagunas, a beautiful area of calm waters full of huallatas, flamingos, and different types of birds.
Day 10: Maras Salt Mines & Biking To Misminay Community And Moray
Drive to Cruzpata and start your mountain bike adventure. Along the trail, delight yourself with the view of Andean peaks and meet the inhabitants of the region working on their daily activities. From Cruzpata, ride to the Maras town and its salt mines, an impressive salt-extraction complex of thousands of small ponds. Next, continue to Moray, one of the most unusual Inca sites consisting of circular terraces built upon a natural depression.
Day 11: Pinkuylluna, the Malaga Pass, Coffee Farm & the Hot Springs of Santa Teresa
Get ready to travel to Ollantaytambo, a charming town where we can make a short optional hike to the Qolqas of Pinkuylluna, from where you'll enjoy great views of the archaeological site. Next, leave Ollantaytambo and head to the Malaga Pass by car. From here, start this easy biking downhill route that takes us from this high mountain pass into the lower jungle areas of Huayopata. Visit a coffee and cacao farm and then continue in our transport to the village of Santa Teresa. In the afternoon, take a bath at the hot springs of Cocalmayo.
Day 12: The Lost City of Machu Picchu
Start your journey to Santa Teresa hydroelectric plant, the starting point of our light hike to the village of Aguas Calientes. It is a straightforward hike along flat terrain following the train tracks through the cloud forest. After a well-deserved shower and rest, get ready for your excursion to Machu Picchu citadel. We'll take a 30-minute bus up the steep zigzagging road to the complex, located on an impressive mountain setting. We'll explore the site for the rest of the afternoon, accompanied by your guide.
Day 13: Scenic Train Ride to Ollantaytambo & Back to Cusco
Finally, it's time to head back to Cusco city! Get ready to enjoy a scenic train ride back to Ollantaytambo, from where your driver will be waiting for us to take you to your hotel in Cusco City. The rest of the day will be free to relax and wander around.
Day 14: Departure Day
You will have some free time to take a last walk around Cusco's shops and markets as you say goodbye to this beautiful city. At the coordinated time, we'll drive you to Cusco's airport to board your flight to Lima and international connecting flights to your next destination.
What's included?
Personalized attention before and throughout your trip
Brief presentation prior departure
01 Peruvian Soul tour conductor with the group (English speaking) for more than 3 passengers
Transportation – Up to 3 people in private SUV with Peruvian Soul Driver/Guide*
Transportation – 4 to 6 people in private Van Hyundai H1
Local English-speaking guide in Sillustani, Puno, Sacred Valley and Machu Picchu focused on personalized trips
Personal biking equipment (helmets, gloves, knee pads, elbow pads)
Accommodation at well-thought hotels according to your travel style
Entrance fees
Mentioned meals
What's not included?
Services not specified in the program, extras & tips
Domestic flights
International flights
Travel Insurance
Route
Gallery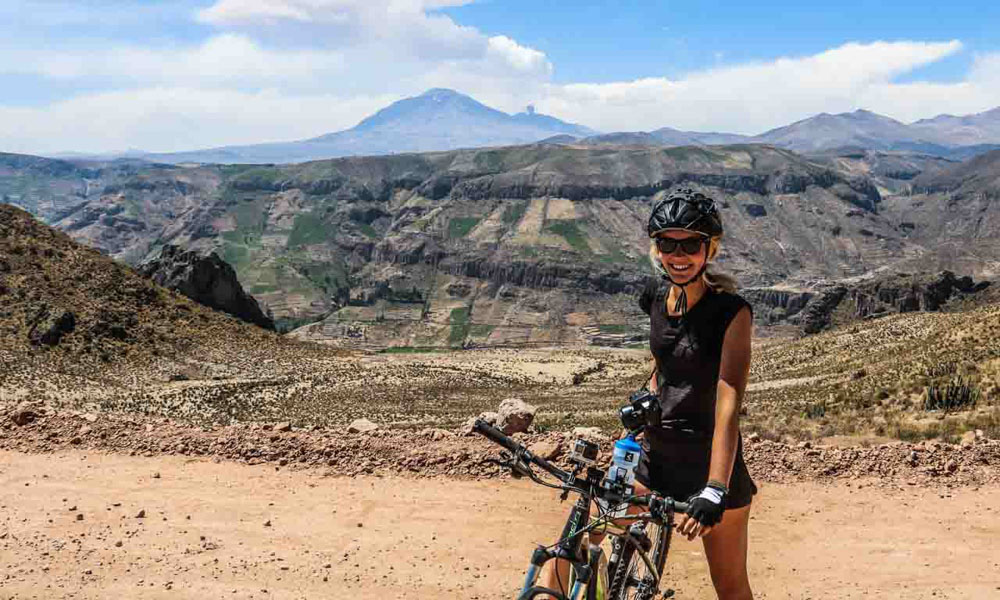 Begin your adventure riding through Arequipa's Countryside
Visit he impressive Condor's view point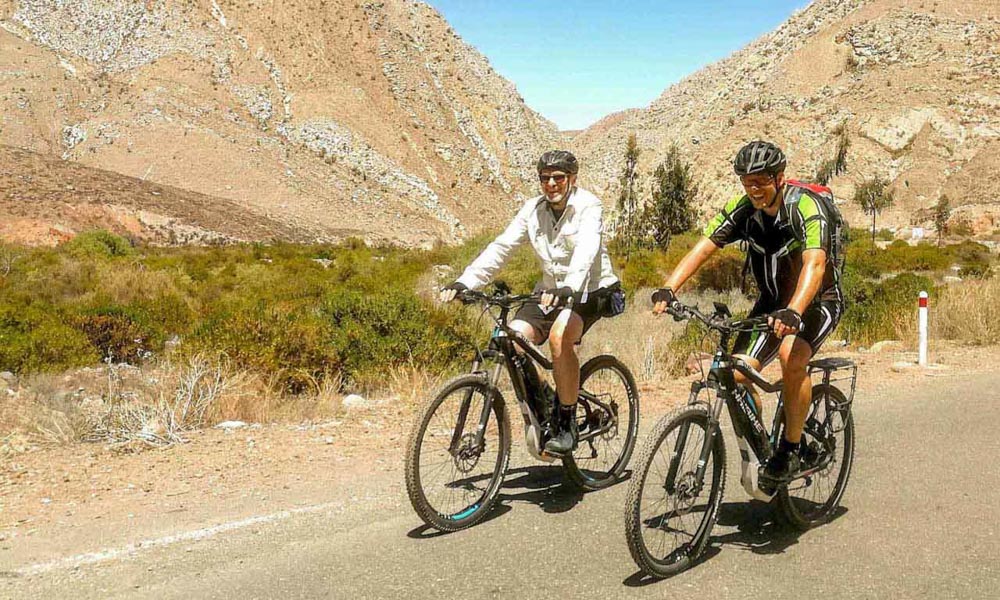 Cycling To The Colca Canyon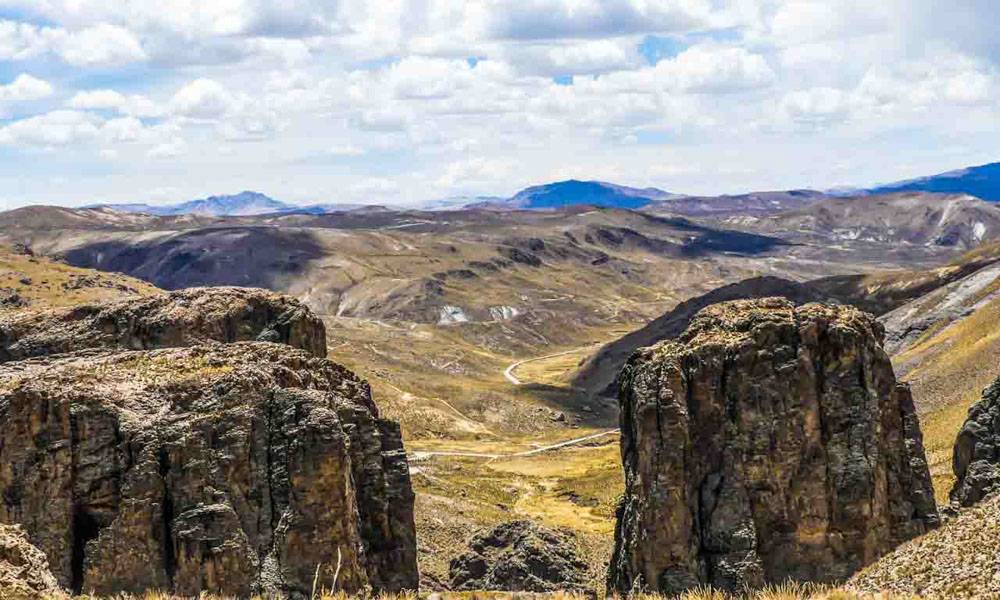 Get amazed by the most amazing landscapes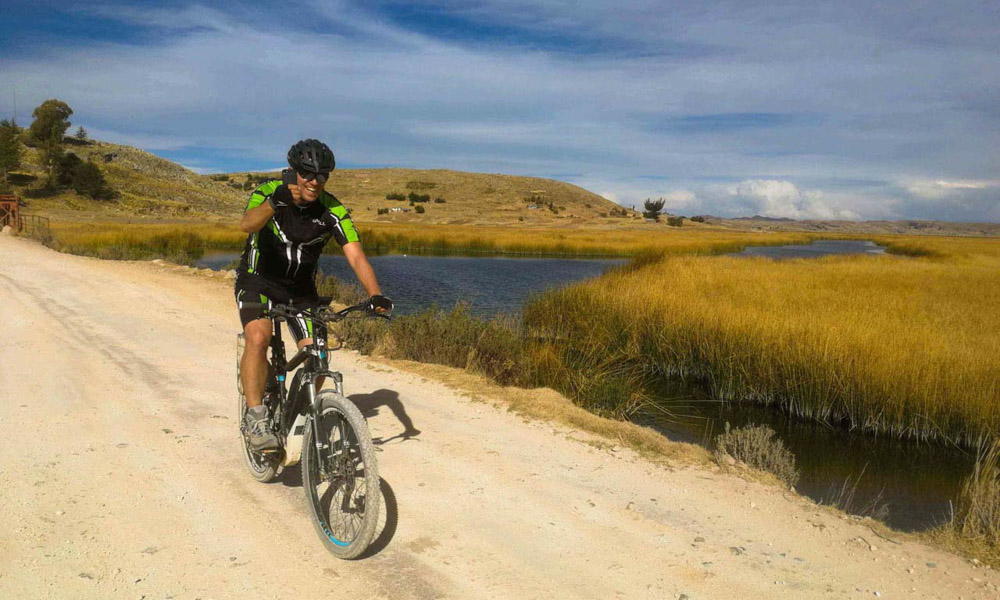 Biking around Sillustani to Puno
Share with the local people from Lake Titicaca Islands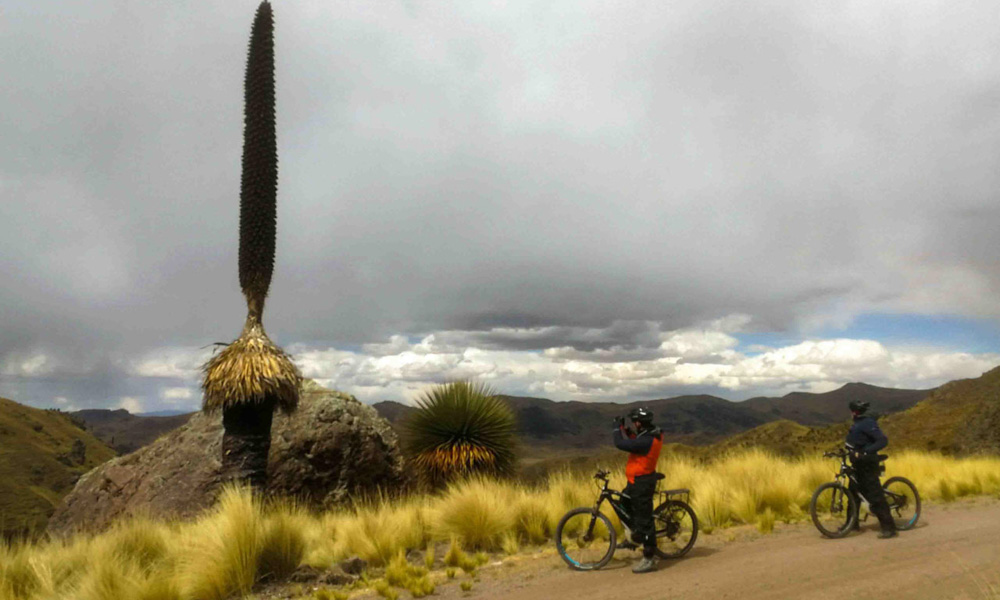 Tarukani, where we'll see the Puyas RaymondIi, a peculiar endemic plant
Scenic route through the Four lakes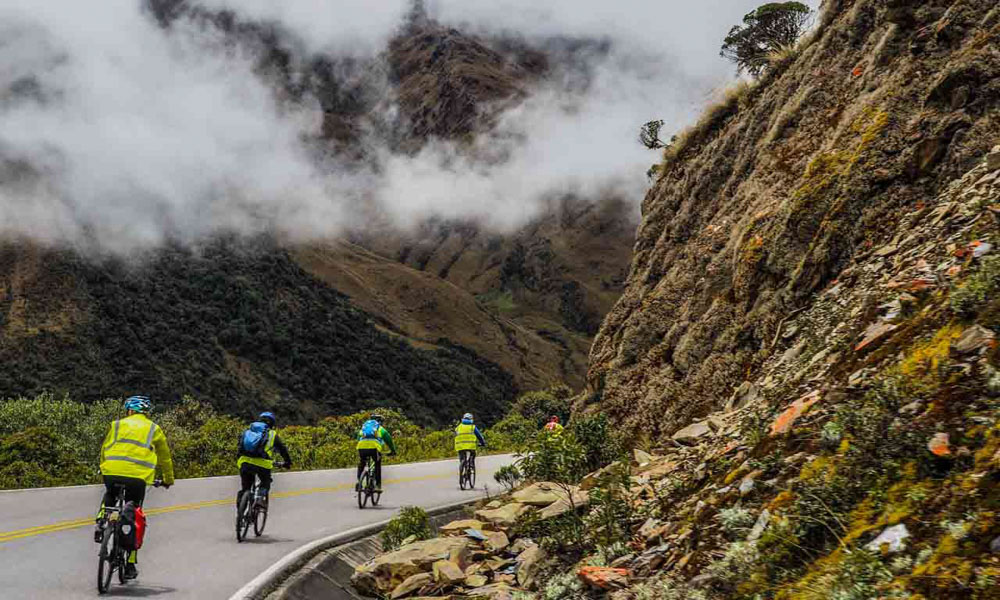 The most adventurous path you will ride, Malga pass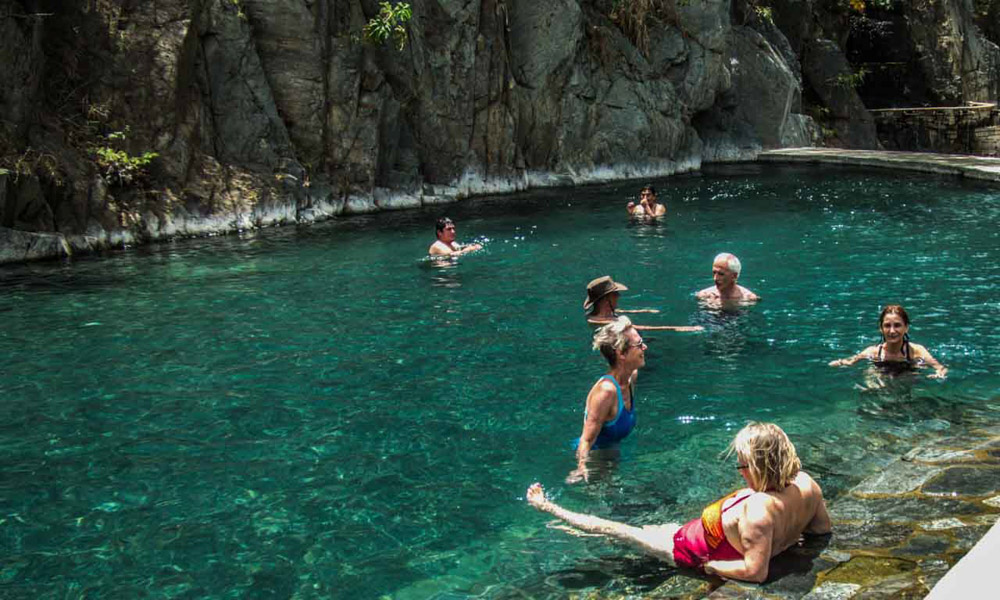 Enjoy the hot springs before heading to Machu Picchu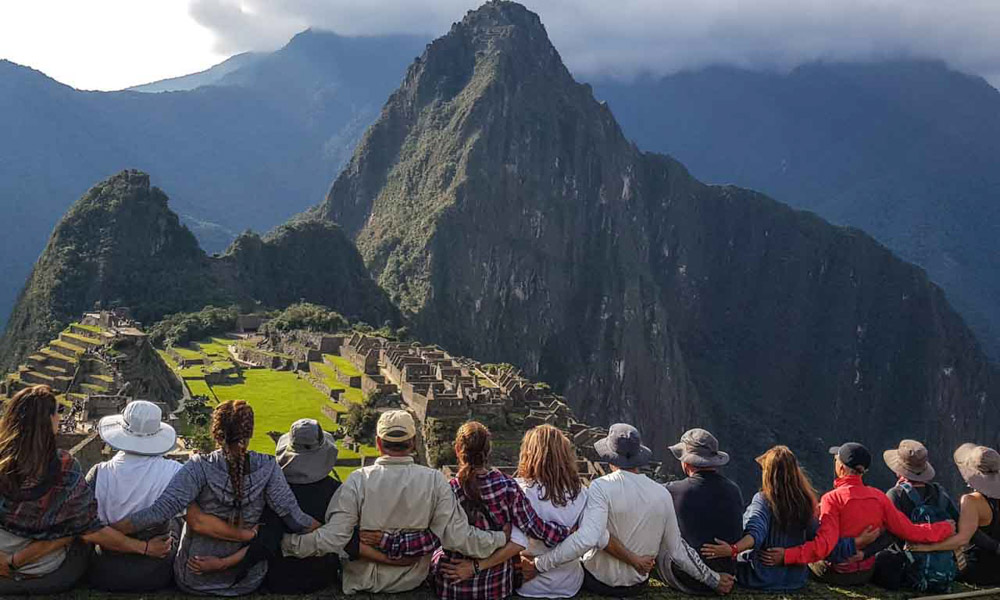 Visit the Lost City of Machu Picchu