In 2003, Andean Lodges, a small tour operator in Cusco, decided to assume a big challenge: to operate in harmony with nature and to value the cultural wealth of the Ausangate area. When Rainbow Mountain was not yet known, and the Apu Ausangate trail was visited only by some adventurers, Andean Lodges had already seen the area's potential. Snowy peaks reflected in crystal clear lagoons, and several "rainbow" mountains are just some of the attractions that bring together hikers from around the world. But nature is only one part of what this trial has to offer. The real wealth preserved in this territory are the traditions treasured by the communities that have lived here since immemorial times.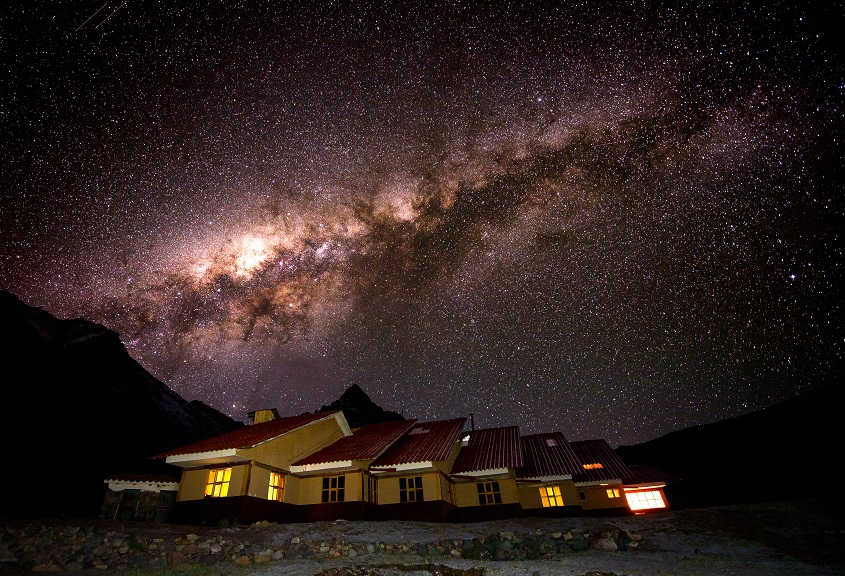 Where the mountain ranges of the southern Peruvian Andes meet, in the so-called Vilcanota Knot, the imposing snowy Ausangate, tutelar Apu (main sacred mountain) of Cusco, rises. The fifth highest peak in Peru is 6 373 meters (almost 21 000 feet) above sea level and is revered since ancient times as the deity that protects water and life, and it really does. Ausangate and the group of snow peaks that accompany it are creators of the beautiful high Andean lagoons that host dozens of species of flora and fauna and provide permanent and quality water to the surrounding communities.
The paths of this territory challenge travelers who venture to its cold climate and rugged geography, with the sole objective of dazzling before some of the most spectacular landscapes of the Peruvian highlands. Fortunately, the Andean Lodges team receives tourists and pampers them in their four lodges, considered to be some of the most comfortable high mountain lodges in the world. A relaxing afternoon in front of the fireplace while drinking a hot tea or chocolate or a grill and wine night in one of the most spectacular sceneries are just some of the details that make this experience unique. During the trail, tourists also have a pleasant experience since guides accompany them at their pace while explaining local ecology, geography, and culture.
Andean Lodges is not only committed to providing an excellent service for tourists. Sustainability is also one of the leading company values. They work hand in hand with Chilca and Osefina local communities. After donating the lands for the shelters, Chillca and Osefina became shareholders of the company and got involved in the tourism operation. Today, almost the entire operation in the lodges is carried out by community members (the project has created 24 full-time jobs and 70 eventual ones). They share their culture with tourists in each dish made with local ingredients, in the harmonious chants of housekeeping women as a wake-up call and even in sacred ceremonies celebrated to protect the groups before venturing into the mystic slopes of the Ausangate mountain.
Community-based tourism, apart from being a great economical alternative for Chilca and Osefina people, is an excellent way to preserve their culture. The Apu Ausangate region amidst one of the most pristine mountain ecosystems on our planet, and it is home for "llamichus" and "pacocheros" (llama and alpaca breeders), inheritors of one of the few remaining pastoralist societies in the world. This activity, although still practiced, is at risk of disappearing due to the use of other means of transport. Andean Lodges has opted for cargo llamas to carry the luggage of tourists from one lodge to the other, allowing community members to preserve and share this ancestral practice. Similarly, women are the heirs of an ancient textile tradition that is equally in danger of disappearing because of the remote location of those populations and the fact that access to markets is almost impossible for them. Travelers participating in the Apu Ausangate's Trail are contributing to safeguarding ancestral heritage, allowing future generations to preserve their authentic identity. It is projects like this that show us that economic development can go hand in hand with the conservation of the immense natural and cultural heritage of a country as rich as Peru.
We recommend this trail to tourists interested in off-the-beaten-path Cusco experiences, that like to enjoy nature without crowds and are interested in contributing to businesses with a high social commitment.
Are you interested in hiking the Apu Ausangate's Trail? Here are some facts!
Location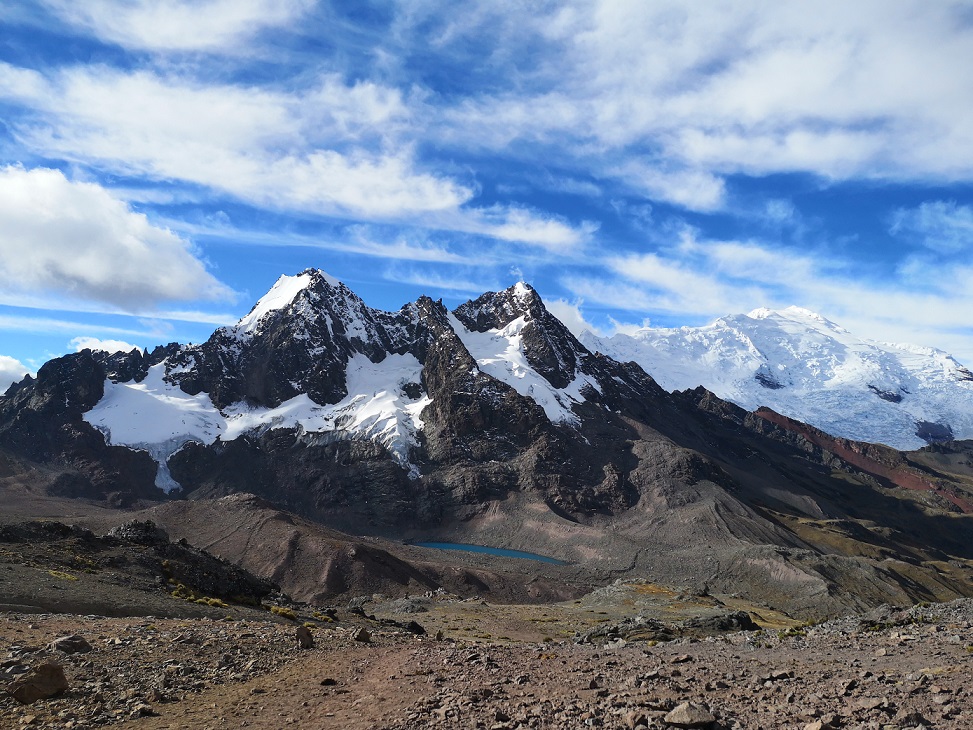 This exclusive circuit is located roughly 100 km (65 miles) south-east of Cusco. The Apu Ausangate's Trail is an entirely different route from the one commonly known as "Ausangate Trek," offered by other agencies based in Cusco.
Altitude and acclimatization
This trail takes place at very high altitudes: 3,886 – 5,150 meters (12,749 – 16,896 feet).
We recommend tourists get used to altitude by arriving at Cusco (lower altitude) at least 2 to 3 days before starting the trail. If possible, they should do a half-day or full-day hike in Cusco's surroundings.
Duration
We recommend the 5 days / 4 nights experience because tourists get to hike all around Ausangate mountain. Travelers will rest each and every night, at one of the four newly built Andean Lodges, which are some of the highest of their kind, in the world. On the trail, daily walking distances vary from about 10 to 16 km (6 to 11 miles). Participants should be in good health and physical condition.
There are also shorter treks (4 days / 3 nights; 3 days / 2 nights).
The lodges
The lodges (known as "Tambos") are comfortable, eco-friendly hotels, different from other constructions usually found in isolated high mountain treks. Each guest-room has a private bathroom with running cold and hot water tapped from nearby springs (hot water is available in the afternoons).