Peru is among the most biodiverse countries in the world. Some of the most pristine areas in the country are National Parks. There are 76 National Parks distributed around the coast, the highlands, and the rainforest, conserving more than 15% of Peru's territory. These areas are essential because of their contribution to the conservation of natural ecosystems and are also important for tourism.
Many National Parks in Peru have breathtaking landscapes, amazing fauna, and exciting communities living inside or near them. Although it is complicated to determine the best ones in terms of conservation of species (since each conserves a representative sample of a different ecosystem of Peru), we have chosen the top 5 National Parks to visit while traveling Peru. These offer the perfect balance between incredible nature, fun activities, and comfortable touristic facilities
#1 Manu National Park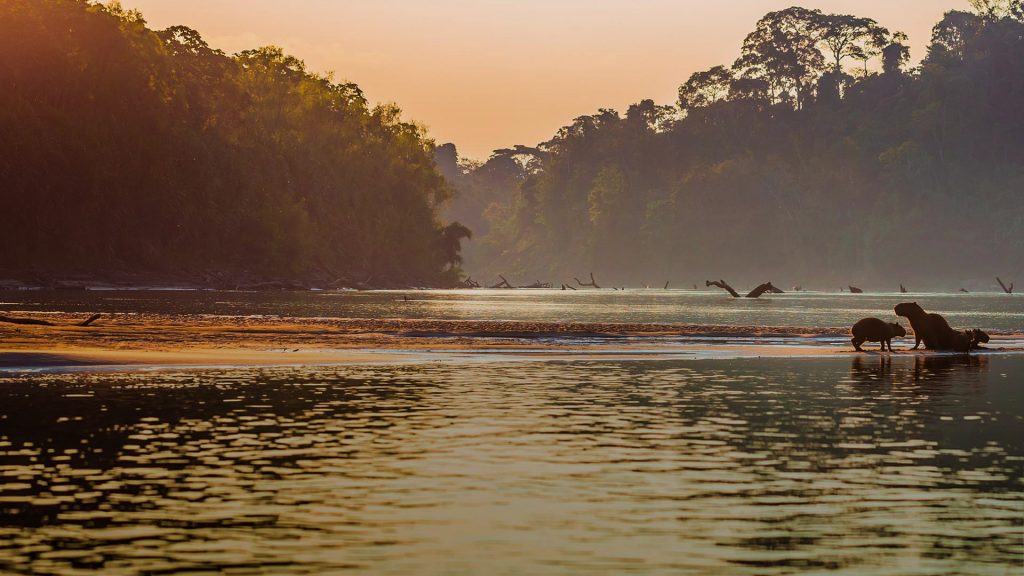 Manu National Park is considered to be the most biodiverse National Park in the world. It is visited by scientists, explorers, and videographers (most of the BBC or National Geographic documentaries featuring Peru have been filmed inside Manu National Park). Fortunately, it is also possible for tourists to visit this unique place in the world and spot fantastic wildlife.
Manu is located between the Cusco and Madre de Dios regions, in the southern jungle of Peru. Tourists can get to Manu National Park by car from Cusco city or by boat from Puerto Maldonado. A fantastic way to do it is to begin the trip in Cusco city and finish it in Puerto Maldonado. This way, you will have the whole experience: you will start driving through a well-preserved cloud forest and end cruising a river in the middle of the rainforest.
Its remote location makes Manu National Park an expensive option for visiting Peru's rainforest. Nevertheless, it totally worth it if you are a nature lover. If you decide to travel to Manu, choose a formal travel agency.
Our accommodation recommendations: Cock of the Rock Lodge and Manu Wildlife Center are great to combine since they are located in very different ecosystems. Both will make you feel like an explorer in the middle of the jungle!
#2 Tambopata National Reserve
Tambopata National Reserve is the most popular place for tourists wanting to visit Peru's rainforest. It is more accessible than Manu National Park, and spotting wildlife is guaranteed. While Tambopata Research Center is the only lodge inside the reserve, several lodging options are in the buffer area.
Tambopata National Reserve is located in the Madre de Dios region in southern Peru. The most visited area inside the reserve is Sandoval Lake, which offers some of the most amazing sunsets on the Amazon. It is also a great place to spot animals such as monkeys, caimans, and the favorite one, the giant otter.
For tourists who want to explore further, the best option is Tambopata Research Center. This lodge is about 2 hours by car plus 4 hours by boat from Puerto Maldonado (Madre de Dios region capital city). This is where the Macaw project takes place, so watching macaws is a must. If you want to learn more about it, visit our blog, "Tambopata Research Center: Macaw Project."
Our accommodation recommendations: Tambopata offers a wide range of possibilities for lodging. If you want to explore a pristine area, you should definitely stay at Tambopata Research Center. If you want a luxurious hotel in the middle of the jungle, Inkaterra Hacienda Concepción will be just perfect. Finally, if you are traveling on a budget and enjoy nature and adventure, Inotawa is your best choice!
#3 Nor Yauyos Cochas Landscape Reserve
Not known by many foreigners, Nor Yauyos Cochas Landscape Reserve is a real gem. This National Park is located between the Lima and Junin region and protects the Cañete river basin. After a seven-hour drive from Lima city, Nor Yauyos Cochas receives tourists with beautiful turquoise lagoons and magnificent cascades.
Many communities are living inside the reserve. Some of them have seen tourism as an economic opportunity and offer services such as boat trips in the lagoons, typical food, or accommodation. In a small town called Laraos, they even prepare pachamanca with tourists in pre-Inca terraces. That's a real luxury!
Usually, tourists spend the night at homestays. The ones that are better implemented are Huancaya and Laros, two of the most visited towns in the area. Homestays are lovely, and the experience of spending time with a local family is magical. Nevertheless, this accommodation can be too basic for some tourists (they don't offer hot water showers, heaters in the bedrooms, among other facilities).
Our accommodation recommendations: we love "La casa de Papa Estelo" homestay in Huancaya. It is a basic lodging option but full of family history.
#4 Huascarán National Park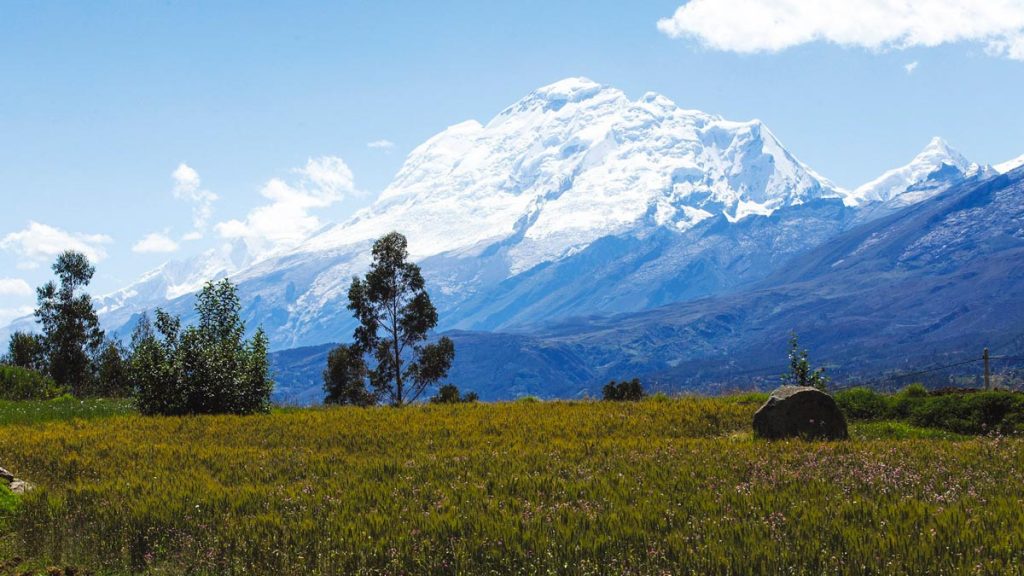 Huascarán National Park in the Ancash region is the best option for adventure lovers. This park and its surroundings are full of snow peaks, hiking trails, and blue lagoons. Huascarán is located in the Ancash region (north of the Lima region). We recommend it just for people in good shape due to its high altitude (around 5,000 meters or 16,000 feet above sea level).
Some of the best-known hikes and treks of Peru are inside or close to Huascarán National Parks. Santa Cruz trek is one of them. This four-day challenging trek offers the most amazing views of the Cordillera Blanca mountain peaks and lakes. The price: walk between three to six hours a day at an altitude of 4,750 meters above sea level (15,600 feet). There are campsites on the trail where tourists can spend the night. The camp's comfortability will depend on the equipment you use.
If you don't feel like doing a four-day trek, but you still want to enjoy Huascarán National Park trails, we recommend you to do Laguna 69 hike. This 3-hour trail gets to the lately famous Laguna 69, a beautiful turquoise lagoon surrounded by snowy peaks. Of course, altitude will also be a challenge, but at least you get to return that same day to a comfortable hotel with hot water.
Our accommodation recommendations: for Santa Cruz, we recommend going with a formal operator. If you plan to visit Laguna 69, we recommend you stay at Cuesta Serena Boutique Hotel.
#5 Paracas National Reserve
Paracas National Reserve is among the most visited National Parks in Peru. Its mars-alike landscapes and unique fauna make Paracas a must for any tourist visiting Peru. Apart from its nature, this enormous desert located in the Ica region safeguards an important piece of history since it was home to Paracas' ancient culture.
Paracas has lots to offer. It can be considered an adventure destination, a historic destination, or a nature destination. Adventure lovers can kitesurf, windsurf or paraglide… wind here is just radical! The ones looking for ancient history can visit the Julio C. Tello Museum, which introduces Paracas' ancient culture. Nature lovers will be delighted with the different species of migratory birds resting in the area. The best of all: you can do a little bit of everything!
There are no accommodation options inside the reserve. The only way of spending the night inside Paracas National Reserve is by camping in some of the established camping areas. Park rangers are very strict with this and give orientation to tourists wanting to camp there. Nevertheless, there are many hotels very close to the reserve.
Our accommodation recommendations: Paracas Luxury Collection is undoubtedly the most luxurious hotel in the area. La Hacienda and DoubleTree by Hilton are also great options. If you are on a budget, cheaper options are offered.