Peru is home to 60% of the world's cacao varieties, and it fills us with immense pride to say that one of the best one is Peruvian. This Amazon fruit produced has gained significant recognition over the years for its fine aroma and exquisite flavor. We will embark you today to discover one of the most authentic Peruvian fruits!
Cacao
Only in Peru, we have a huge diversity of Cacao trees within The Amazon Rainforest and the foothills of the Andean Mountains. About 10 distinct genetic families of cacao grow every year, each one creating different tastes and contributing to the richness and the exceptional quality of this delicacy in Peru.
It is fascinating how much attention and research is happening in the world of cacao. But what's even more amazing is that recent investigations reveal the origins of this fruit in the north of Peru! It turns out that about 5000 years ago, cacao was actually cultivated and used as part of offerings in funerary tombs in Monte Grande, Jaen. And, on top of that, during the Inca times, cacao has always been a key ingredient in ceremonial and medicinal beverages. Nowadays, about 50,000 Peruvians, proudly use the power of this bean to create new ways to enjoy it!
Embracing the passion for cacao: 4 chocolate experiences
Across the country, we have experiences that make you connect with this fruit by tasting and learning all about the traditional techniques used in its cultivation and processing. Through the expertise, innovation and passion of 4 people we contribute to keep embracing the value of the cacao. Let's discover together what each experience has to offer.
Renacer : Sharing a message through chocolate
¿Can you picture yourself eating a chocolate with ceviche flavor, or marveling at a chocolate shaped and like a Peruvian mountain?
There are very popular Chocolate brands through Peru, but Renacer has to be for sure the most authentic ones. Renato, the visionary behind Renacer, one day decided to transform the way we eat "chocotejas" in Peru, offering an exquisite experience that any chocolate enthusiast must savor.
Here, the chocolate becomes a canvas for celebrating the rich heritage and Peru's diverse tastes. A deep appreciation for nature and a respect for cacao producers can be felt in each of his creations. Some combinations may surprise you will definitely embark on a original journey.
El Cacaotal: A genuine connection with cacao
Sometimes a passion can turn your life around and that's exactly what happened to Amanda, when her curiosity for Peruvian cacao took over!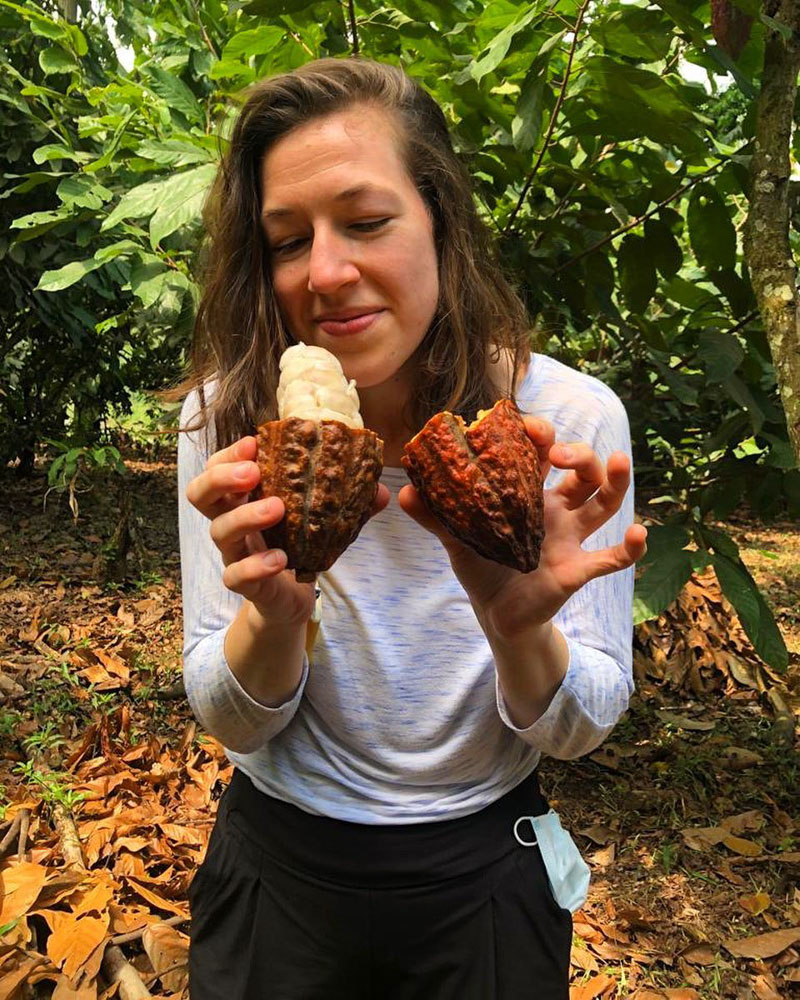 In El Cacaotal, Amanda shows people the diversity of cacao from every corner of Peru. As you stroll around her charming boutique, you will have the opportunity to embark on a chocolatey adventure that reveals the dreams and history of each local producer.
If you're looking to experience this authentic connection with cacao, don't hesitate to book one of the incredible experiences Amanda offers with us! Her genuine passion for cacao will leave you just as captivated!
Adress: Jr. Colina 111, Barranco 15063
Open Hours: Mondays to Saturdays, 09 AM – 08 PM
Ukaw: Honoring the Ucayalian cacao
In her pursuit to pay tribute to her beloved region, Pucallpa, Gianina brought to life the Ukaw Boutique, a sanctuary dedicated to celebrating Ucayalian cacao. Here, you will discover a range of products she has poured love and dedication over the years. From camu camu truffles to the innovative cacao fettuccini dish, Gianina's creativity knows no bounds.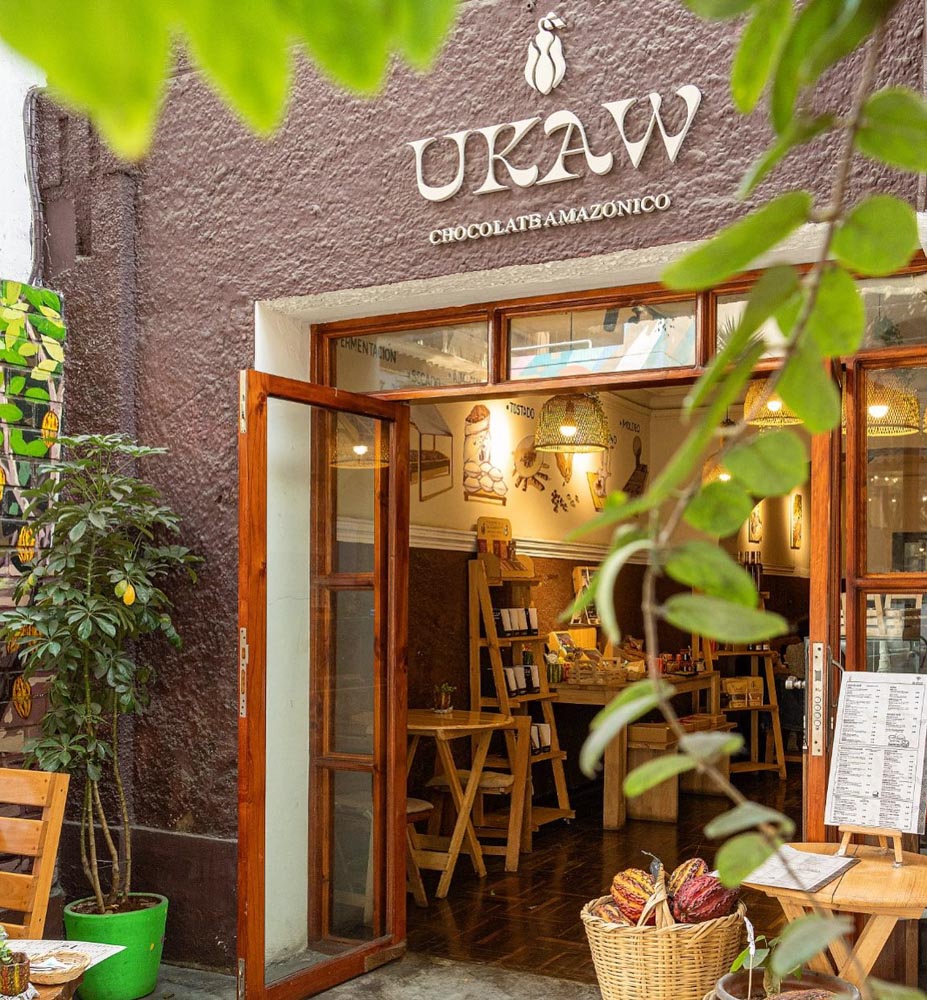 For those with an appetite for these delights, her charming boutiques await your visit, both Lima and Pucallpa. A journey into the world of cacao that promises to captivate your senses!
Adress: Calle Alcanfores 432, Miraflores 15074
Open hours: Mondays, 09 AM – 09 PM and Thursday to Sundays 8 AM – 10 PM
Huayopata: The Chocolate and Coffee Experience
Across the majestic mountains into the cloud forest of Cusco, you will find Huayopata, a cozy farmhouse that Julia and Jose call home. This enchanting spot offers a great opportunity to immerse yourself in a fusion of history with chocolate and coffee. It's not just about observing from a distance, here you'll be actively engaged in every step of the process from harvesting to finally tasting an exquisite chocolate bar!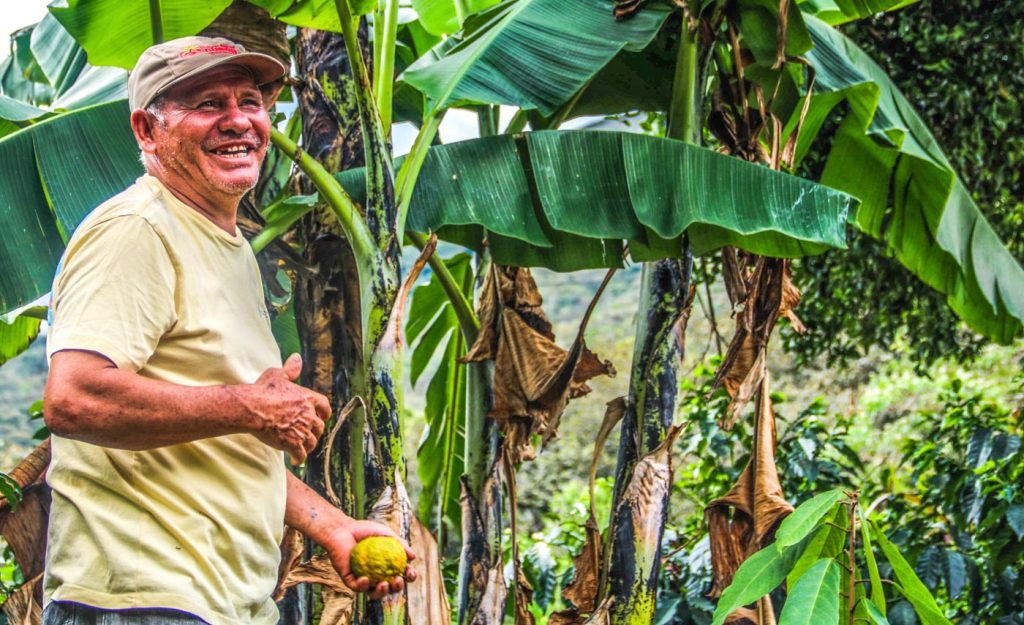 If you are in Cusco, looking for a unique chocolate experience, Julia and Jose will be more than happy to welcome you. We assure that here the tradition and chocolate integrated to create unforgettable memories!
Ultimately, Peruvian cacao is a true gem known for its unique flavors, aromas, and cultural significance. Its exquisite taste and quality have made it a must-try for any chocolate lover out there and has inspired these 4 people to keep embracing its value. If you are planning a trip to Peru, make sure to try at least one of these experiences. You won't regret it!